Anglicans sanction Scottish Episcopal Church over same-sex marriage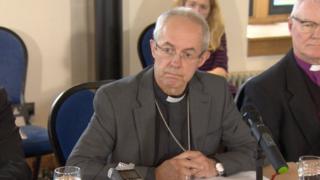 The Scottish Episcopal Church is to be excluded from ecumenical and leadership roles in the Anglican Communion, the Archbishop of Canterbury has said.
The decision follows the SEC's vote to begin marrying same-sex couples.
The Most Rev Justin Welby set out the decision in a news conference mid-way through a week-long meeting of Anglican primates in Canterbury.
He said: "There were a lot of expressions of disappointment, strong feelings from many of the provinces."
The archbishop said the consequences were agreed unanimously. He said he felt "very sad" about the decision.
"People were disappointed, they were angry but it was a very different mood to previous primates' meetings," he added.
"It was more like a family having to face the fact that something's happened that is causing grief, than a club that doesn't like one of its members."
'Love means love'
In June, the SEC voted to amend canon law and allow same-sex couples to be married in church during its General Synod in Edinburgh.
The first same-sex Anglican church wedding in the UK took place in Edinburgh last month.
Other same-sex weddings have been held in churches in Glasgow and Moray since.
The Scottish Episcopal Church expected to be sanctioned by the Anglican Communion.
SEC members voted to remove the doctrinal clause which stated that marriage is a "union of one man and one woman", replacing it with a clause which asserts that clergy who do not wish to preside over same-sex weddings will not be compelled to do so "against their conscience".
The Secretary General of the Anglican Communion had previously said the SEC's decision puts it "at odds with the majority stance that marriage is the lifelong union of a man and a woman".
Responding to news of the sanctions, the Primus of the Scottish Episcopal Church, the Rt Rev Mark Strange, said: "We will continue to play our part in the Anglican Communion we helped to establish, and I will do all I can to rebuild relationships, but that will be done from the position our Church has now reached in accordance with its synodical processes and in the belief that love means love."