Looking back on the dance hall days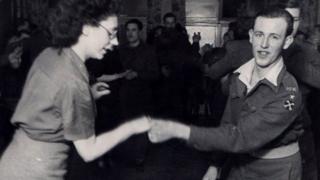 Dance halls were a huge part of people's lives across Scotland and beyond.
Many met their partners there, had a taste of freedom and encountered new and exciting kinds of music.
A new exhibition about the social history of music and venues from the 1920s to the 1970s opens in Edinburgh this weekend.
"One Saturday we happened to meet each other at the dancing and he took me for a gin and tonic," says Evelyn Whitfield, remembering her dancing days as a teenager in Cupar.
She worked with the man who is now her husband but dancing was key in how things developed.
Evelyn says: "Even now, when we've been married for 54 years, when he has a gin and tonic, he wafts it in front of my face and I start singing the dance hall music because it's so evocative of that time."
What you wore to the dance hall was hugely important and Evelyn shows me one of her dancing dresses.
It is a floaty polka dot number with petticoats which were dipped in sugared water to keep them sticking out.
Her memories of some of the dance halls are of beehive hairdos, heavy with the smell of hairspray.
As for the dances themselves, the quickstep and tango were favourites of her husband, Donald.
He explains that dancing, as well as being a lot of fun could be a tough business.
Donald says: "If you weren't good in some of the places, then the girl you were dancing with would just leave you in the middle of the floor.
"It never happened to me," he adds.
Scotland was particularly keen on dancing and dance halls.
Like cinema, provision here was higher than elsewhere in the UK.
In Glasgow, by 1937 for instance, there were 256 places you could go dancing.
Some of the venues were more glamorous than others.
"That's one of the things that's fascinating about dancing for a historian," says Dr James Nott of St Andrews University.
He became interested in dance halls partly because his parents met in one.
He says for women in particular they represented a kind of freedom.
'Pop-up' dance hall
Dr Nott says: "Really it's a way of looking at some of the big economic, social and political changes that are going on, it reflects those changes and also helps shape them too."
The exhibition has been set up by the oral history charity, the Living Memory Association.
There will also be a chance this weekend to dance in a 'pop-up' dance hall in an empty shop and talk about memories.
"It's so central, like school days and childhood," says project worker, Miles Tubb.
"There's this graduation of life to the dancing and for people to be able to give information, it's history after all, a lot of shared memories."
As the 1960s wore on, things changed.
Women waiting for men to ask them to dance began to feel old fashioned, people did different things in their leisure time, music was played on records.
They are gone now but dance halls left their mark.