Round-the-clock patrols at Grenfell-style cladding flats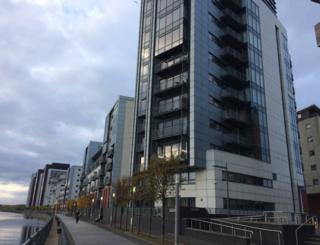 Round-the-clock site patrols have been put in place at two housing blocks in Glasgow after tests found the cladding was not highly fire resistant.
A letter from Housing Minister Kevin Stewart confirmed 24 privately-owned tower blocks in Glasgow had cladding similar to that used on Grenfell Tower.
Glasgow City Council decided 22 of these buildings were low risk.
But two blocks contained extensive coverage of a type of cladding that was less fire resistant.
Police believe at least 80 people died when fire engulfed Grenfell Tower in west London on 14 June.
The Scottish government ordered a review of all high rises following the tragedy.
Glasgow found combustible cladding and ACM (aluminium composite material), similar to that used in the Grenfell Tower, on 57 private high-rise buildings.
Safety measures
The housing minister wrote to local government committee convener Bob Doris on Tuesday to update him on the current situation.
He said 24 private high-rise domestic buildings in Glasgow had ACM in their cladding systems - but 22 were considered "low risk as the extent of ACM is limited".
The minister said the fire service had visited and "not identified any cause for concern".
Two further blocks have extensive coverage of a "lesser fire resistant type of ACM".
The BBC understands these are at Castlebank Drive and Meadowside Quay Walk in the Glasgow Harbour development.
The minister's letter said the Scottish Fire and Rescue Service and Glasgow City Council had put safety measures in place.
These include:
Increased fire service response to any major incident there (six engines and one high-reach vehicle)
Residents have been told in the event of a fire they should evacuate the building rather than stay put
Putting in place 24 hour, 7 days a week on site patrol
The factors have immediately increased concierge and security services to 24/7 with three people per building spread across different floors
Mr Stewart said they were interim measures until agreement could be reached on removing the material used in the cladding system.
Newton Property, the factoring company representing the owners of the three residential blocks at Castlebank Place, Glasgow Harbour Terraces and Meadowside Quay Walk (also known as gh2o Phase 1), said a surveyor's report confirmed that the cladding used in those blocks was not ACM.
As a result, it said the cladding did not pose any increased level of fire risk to either the buildings or their occupants.
A spokesman for Glasgow City Council, said: "Council officers have seen the surveyor's report and we are satisfied that the areas previously identified at gh2o Phase 1 development do not therefore pose any increased fire risk."