Glasgow scientists launch teacake into space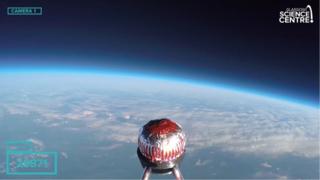 Thousands of people have watched a teacake voyage into space in a fun experiment.
The launch was carried out by a team at Glasgow Science Centre (GSC), aimed at sparking people's "imagination" in science and technology.
A camera attached to a hydrogen weather balloon broadcast Facebook Live images that were watched 33,000 times.
The Scottish confectionery went 21 miles up before descending. It landed in a tree in Galloway Forest Park.
The balloon with the Tunnock's Teacake - which has been named Terry - was launched at midday on Friday in Houston, Renfrewshire.
It took one hour 29 minutes to hit a peak altitude of 37,007 metres. It then took 40 minutes to come back to Earth.
'Beloved'
The science centre is promising another video next week when it will give "another one of Scotland's beloved treats the science treatment".
It says it wants to engage more people in so-called STEM subjects of science, technology, engineering and mathematics.
Dr Stephen Breslin is chief executive of Glasgow Science Centre.
He said: "We engage people with space science every day, and we thought what better way to spark people's imaginations and interest in STEM than for us to launch something into space ourselves.
"We are delighted by how many people joined us at GSC, and online, to watch Terry's space adventures."
Scientists said they were interested to know what would happen to the teacake - how it would react to low pressure and temperature changes and harmful UV-c rays.
According to the team, "Terry was pretty intact when he landed in a tree in Galloway Forest Park".
A spokesman for Tunnock's said: "It's a great fun idea and indeed our milk chocolate teacake wrapper has been likened to the parachute bringing some Apollo spacecraft back to earth."