Government looking into case of Western Isles teenager denied passport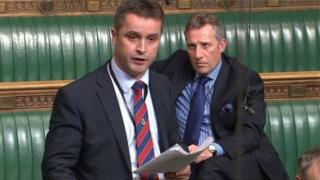 The UK government has said it will look into the case of a 14-year-old girl from the Western Isles who has been refused a British passport.
The unnamed schoolgirl has been unable to find the birth certificates the Home Office needs for passport applications.
She cannot trace her mother, who she has not seen since 2005. Her father died in 2015.
Immigration minister Brandon Lewis said he was aware of the case after SNP MP Angus MacNeil raised it in parliament.
Mr Lewis added: "We do have to make sure when we are issuing passports that we go through all of the proper checks and make sure that we are doing it properly and correctly.
"I make no excuses for that, that is obviously a matter of national security, but this is a case I am looking into and I will be coming back to (Mr MacNeil) in the next couple of days".
Status letter
The girl was born in the Western Isles, but her initial passport application was rejected because she did not have a copy of her mother's birth certificate.
She then applied for a status letter - a document from the Home Office that would prove her nationality and allow her to obtain a passport - but this too was denied as they were unable to confirm she was a British citizen.
The Home Office say that she cannot derive an automatic claim to British citizenship through her late father, and despite numerous attempts she has been unable to trace her mother's birth certificate.
Mr MacNeil, the girl's local MP, said he felt it was "beyond any doubt that this girl is a Hebridean Scot" and has described the case as "probably the most callous I have worked on in my time as MP."
But he welcomed Mr Lewis's pledge to examine the case, and added: "I hope that his intervention leads to the outcome we all want - for this schoolgirl to receive her Status Letter which will allow for her to apply for a passport."