Subsidy for Scotland's ferry services doubles over 10 years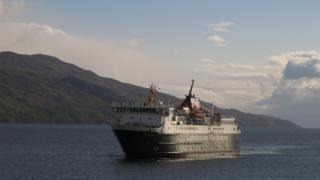 The amount of public money being spent on Scotland's ferry services has more than doubled in the last decade, a spending watchdog has found.
Audit Scotland said Transport Scotland spending on the ferry links now came to more than £200m.
The body warned a long-term strategy was needed to ensure services continued within the "allocated budget".
The Scottish government said investment in ferries was subject to "strict financial control and management".
Transport Scotland spending on ferries rose from £97.3m in 2007-2008 to £209.7m in 2016-2017 - with subsidies to operators doubling to £168.7m over the period.
New procurement method
While the agency has made "significant progress" as part of plans to improve services, Audit Scotland said its 10-year plan was focused on the Clyde and Hebrides with "no Scotland-wide, long-term strategy".
It added that the condition of about half the harbours used by operators was unknown, and said: "This means the full extent of Transport Scotland's future spending requirements on services and assets is not known.
"In the context of limited public finances, Transport Scotland will find it challenging to continue to provide ferry services that meet the needs of users within its allocated budget."
More coverage on Scotland's ferries
Scotland has an estimated 66 scheduled ferry routes linking up islands and the mainland, with Transport Scotland providing subsidies to almost half of these services.
But Audit Scotland was critical of the agency's handling of the tendering for the new Clyde and Hebrides ferry services contract, saying it used a new procurement method and the two bidders were "not clear what was expected of them" - submitting more than 800 queries over the course of the process.
The introduction of the Road Equivalent Tariff (Ret) has increased traffic on the Clyde and Hebrides services, with 2016 - the first year in which Ret was applied across the whole area - seeing growth in passengers of 9% and 16% more car journeys.
Audit Scotland said it was too early to assess the full impact of the roll-out of the scheme, which links ferry fares to the cost of travelling an equivalent distance on land.
"As the Scottish government did not set clear objectives or targets for Ret, it will be difficult for it to determine whether Ret has been more, or less, successful than planned," Audit Scotland said.
Fraser McKinlay, from Audit Scotland, said ferries were performing well overall, but added that it was critical they provided value for money with public spending under pressure.
"With so many developments ahead, Transport Scotland needs to make important spending decisions," he said.
"Its future investment priorities must be based on ferry users' needs and good information on the benefits that services provide."
Transport Minister Humza Yousaf said more than £1bn had been invested in Scotland's "iconic" links to the islands since 2007, which had brought new routes, new vessels and cheaper fares.
He said: "All of our investment is subject to strict financial control and management, and we will continue to support our ferry networks and the communities that depend on them.
"As the report points out, the operators providing our ferry services are performing well. In 2016, 5.7 million people and 1.4 million cars were carried on 158,000 sailings."
The minister insisted that the procurement of the Clyde and Hebrides contract was a success, saying the winning bid from CalMac contained 350 commitments to improve services.