Rare Charles Rennie Mackintosh painting secured for nation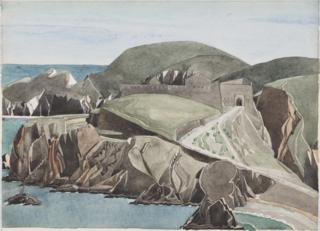 An "outstanding" rare watercolour by artist and architect Charles Rennie Mackintosh has been acquired for the nation at auction.
The Road Through The Rocks was bought by the National Galleries of Scotland for £65,000.
The southern French landscape will go on show at the Scottish National Gallery for the first time this autumn.
The exhibition coincides with the 150th anniversary celebrations of Mackintosh's birth.
He painted the landscape between 1926 and 1927.
It will be displayed alongside Mont Alba, the National Galleries' only other Mackintosh watercolour and three Mackintosh watercolours on long loan to the gallery.
The Road Through the Rocks depicts Fort Mailly, an 18th Century fort built to guard the entrance to the harbour at Port Vendres.
Mackintosh was said to be fascinated by the fort and painted it at least four times from different viewpoints.
Sir John Leighton, director general of the National Galleries of Scotland, said: "Mackintosh is one of the greatest of all Scotland's artists and architects and this is a very refined and beautifully composed watercolour which demonstrates his sophisticated engagement with European landscapes.
"It is especially pleasing that it has been possible to secure such a rare work in good condition for the national collection in time for all the celebrations that will mark the 150th anniversary of his birth."
The painting will be on display from 20 October to mid-January 2018.