'I just held my son that night and cried'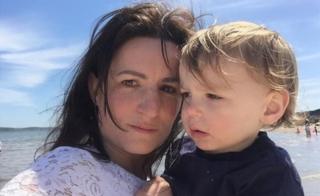 Over the course of a decade, Rebekah Bilbrough's husband was paralysed, she almost died having a baby and she was diagnosed with aggressive breast cancer.
Her counsellor says the traumatic experiences she has gone through are "off the scale".
Rebekah told BBC Scotland's Stephen Jardine programme it had left her asking: "When is the next thing going to come? What will it be? and will it be even worse than the last lot?"
Despite this she says she is trying to be positive about the future.
Rebekah, who lives in Cumnock in Ayrshire, says that when she met husband Glenn they had a "fantastic life, lots of holidays and time out with friends".
'He'll never accept what's happened'
In 2007, the couple travelled to Austria, where they had been married eight years earlier, to spend Christmas with friends.
As they were close to finishing their skiing session on Christmas Eve, Rebekah, who is now 39, and a friend realised something was wrong with Glenn.
"We looked back and he was on the floor, on the ground," she says.
"He was saying he was struggling to breathe and also that he couldn't feel his legs."
Glenn, now 53, was airlifted to a hospital in Innsbruck.
By the time Rebekah was driven there, doctors knew the fall had left Glenn paralysed.
Rebekah says: "The hardest part of that day was phoning his mum and dad to let them know."
The couple were flown to Manchester, where they were living at the time, on New Year's Day. Glenn spent time in hospitals then nine months in rehab.
"He'll never accept what's happened," Rebekah says. "We both miss the Glenn from before."
Although Glenn remains paralysed from the chest down and has a 24-hour care team, he works full-time and has been able to ski again - in a kart, with the charity Back Up.
Once they adapted to their new life, the couple turned their attention to having a family and tried IVF treatment.
"It wasn't successful, but I kept telling myself that generally they say the first ones don't work, you need two or three goes," Rebekah says.
'There were towels and towels of blood'
The Bilbroughs moved to Scotland not long after their first rounds of IVF and had to wait two years before their treatment could start again.
More attempts failed and their funding was cut. They went private, for one final try.
The treatment was successful and Rebekah became pregnant.
Giving birth almost killed her.
Rebekah needed an emergency caesarean section. During the operation, her organs started to shut down and she began to haemorrhage.
"I'm very lucky to be here, basically," she says.
"There was towels and towels of blood. They [the doctors] were running back and forth from the blood bank."
After two weeks in hospital, Rebekah and her son Erik were able to go home.
She says: "It was sad in a way because it wasn't how we imagined it was going to be, but it was great Erik and I went home together. I was grateful for that."
'I just held Erik that night and cried'
Days after her 38th birthday and only a few weeks after her son was born, Rebekah found a lump.
She says: "The ground just fell out from underneath me. I just knew. I knew then it was breast cancer.
"I just held Erik that night and cried."
Rebekah went to see a practice nurse. A scan was inconclusive, so a biopsy was ordered.
She returned for her results with her 13-week-old baby in tow. The doctor confirmed she had cancer, a particularly aggressive kind known as triple-negative.
After chemotherapy and operations, treatments that left her temporarily unable to care for her son, she is now in remission.
The series of experiences have left Rebekah with post traumatic stress disorder (PTSD).
She says: "I don't think you can go through life with that sort of thing happening without having some emotional scars picked up along the way."
'Erik deserves to have a happy life'
Despite everything that has happened, she is trying to be positive.
Rebekah says: "Erik deserves to have a happy life, and I can't let this take over for him."
"Last year I wasn't sure I'd make it to his first Christmas, never mind his second, but now I'm thinking yes, I will, I'll be fine."
Her son is doing well.
Rebekah says: "He's thriving, he's wild - but he's a loveable wild boy. He's happy, he's progressing so well.
"He's 18 months and is already half my height, already stronger than me, so I don't really stand a chance."
'I can't borrow tomorrow's worry'
Rebekah spent six weeks on a programme run by Breast Cancer 2000 and Beatson Cancer Charity, which taught her how to deal with the thoughts of her cancer returning.
She says: "You've got to say 'You know what, I can't borrow tomorrow's worry, I've got to live now, in what is happening now'.
"You get reminders of what you've been through but you try to say 'Right, keep busy, do things and try to look forward and try to be positive'.
"I'm feeling positive that we will get things back on track - it's just taken longer than we'd like."