Successful businesses 'key' to success of Scottish islands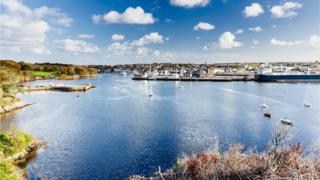 Business leaders on Scotland's islands have called for more to be done to improve the infrastructure and encourage young people to stay.
A survey of 275 island firms by the Federation of Small Businesses (FSB) found 88% said they faced challenges that mainland businesses do not.
The report identifies transport and affordable housing as priorities.
The Scottish government said it was investing millions in digital connectivity, transport and housing.
In June, ministers introduced a "historic bill" to create a sustainable future for the islands.
The proposed legislation aims to offer greater powers to island local authorities, in the Western Isles, Orkney and Shetland.
The FSB has passed its survey results to Holyrood's Rural Economy Committee in a call for action.
David Richardson, the FSB's development manager for the Highlands and Islands, said prosperity was "intertwined" with the success of its local business community.
"While this rings true across the country, it is particularly the case for Scotland's island communities," he said.
"Our survey work shows, perhaps unsurprisingly, that addressing shortfalls in digital and transport infrastructure is a top priority for island firms. But - ahead of these problems - local businesses want to play a role in developing sustainable island communities."
Survey results were gathered from islands including Shetland, Orkney, Skye, Bute and Arran.
Other priorities identified in the report included better facilities for tourists and access to superfast broadband.
The FSB also highlighted census data showing that 13% of Scottish island residents work for themselves, compared to a national average of 7%.
Mr Richardson added: "Micro businesses and the self-employed are vitally important to island economies. But our research shows that one in five islands business owners has considered moving to the mainland.
"To state the obvious, the long-term success of island communities requires their local private sectors to thrive, to power job creation, local growth and to retain and attract younger residents."
'Island-proof decisions'
A Scottish government spokeswoman said: "We are investing millions, over and above core investment to local authority partners, to ensure our islands have digital capability, transport connectivity, affordable housing and a thriving tourism industry.
"Our first ever Bill for Scotland's islands includes provisions to 'island-proof' decision-making across the public sector and will ensure the interests of islanders are reflected in future legislation and policy from the very outset.
"The National Islands Plan will set out the strategic direction for supporting island communities, continuing the momentum generated by the 'Our Islands Our Future' campaign and the work of the Islands Strategic Group."