LGBT groups oppose Football Act repeal bid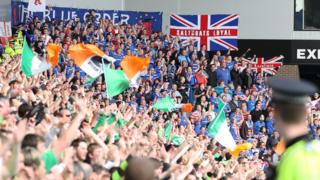 LGBT groups say scrapping legislation that outlaws offensive behaviour at football matches would send a negative message to the community.
MSPs have been hearing evidence about the impact of the Offensive Behaviour at Football Act.
The government is reviewing the controversial law after a bid was launched to repeal it.
A survey of children found more than a quarter had experienced offensive behaviour at football matches.
Colin Macfarlane, from Stonewall Scotland, agreed there were "implementation issues" with the act, and said it was time for it to be reviewed - but said repeal would "send a very negative signal to LGBT people".
He said: "Our view is that it sends a very clear message, that offensive behaviour at football is not acceptable. LGBT people tell us that that's one area of sport where they don't feel safe or secure - whether that's from chanting or singing or comments that are made on the stands.
"Our view is that repealing the act without other measures in place could undermine work that's been done to increase LGBT people's confidence not only in reporting hate crime but also in attending sporting events like football.
"Nothing should happen until the hate crime review has reported back."
'Disproportionate focus'
Other groups have told the justice committee the law is confusing and existing powers can already address offensive behaviour at football matches.
Danny Boyle, from the Black and Ethnic Minority Infrastructure in Scotland group, said: "We are not convinced that it appropriately or effectively tackles hate crime in Scotland.
"We support generally a policy of mainstreaming and coherence which strives to ensure a remedy for those who face hate crime on a daily basis in Scotland - this act does not achieve it.
"It creates a disproportionate focus on one section of society, when the overwhelming majority of hate crime is taking place somewhere else."
He added: "It's also misleading to promote this act as primarily a piece of hate crime legislation; it deals mostly with threatening behaviour, fighting or threats to fight. That's a laudable aim, but it's not a hate crime charge.
"We're concerned that the breadth of the law may create restrictions on freedom of expression and equality for all."
Labour MSP James Kelly has brought forward a Member's Bill to repeal the Offensive Behaviour at Football Act.
The law came into force in 2012 after the SNP used its majority to pass it, but all other parties have called for it to be scrapped, arguing that it is ineffective.
The government faces defeat on the issue after losing its majority at the last Holyrood election.
Opponents say the law unfairly targets football fans and there is already sufficient legislation in place to deal with such crimes.
But the government has said its opponents have not put forward any viable alternatives and that scrapping it would send the wrong message on offensive behaviour.
Acts of hatred
A study of 1,400 secondary school children carried out as part of the review found 28% had seen acts showing hatred of people for their religion, race, disability, sexuality or national background at football matches.
A fifth of pupils also said they had seen or experienced offensive behaviour while on the way to, or leaving, a match.
Two thirds had experienced such behaviour online and almost half had while at school.
Just 1.5% said they had never witnessed or experienced offensive behaviour.
Students were split on whether there should be a specific law banning the singing of offensive songs at football matches, with 45% for and 41% against.
Children from 50 secondary schools around Scotland responded to the survey sent out by the justice committee.