Slight rise in domestic abuse cases in Scotland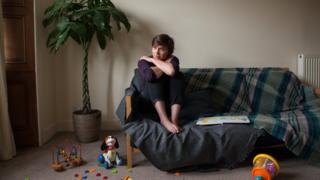 The number of domestic abuse incidents has risen by 1% over the past year, according to figures released by Police Scotland.
Between April 2016 and March 2017 59,000 incidents were recorded, nearly half of which resulted in at least one crime or offence being recorded.
In 79% of cases there was a female victim and a male accused. Women were accused by men in 18% of incidents.
The overall figure has decreased slightly over the past five years.
Justice Secretary Michael Matheson said the figures were "evidence of the unacceptable levels of domestic abuse in Scotland".
"We know these figures don't paint the whole picture, as victims are often too afraid to report abuse," he said.
Domestic abuse in 2016-17
58,810
number of incidents recorded by police in Scotland
27,496 cases included a crime or offence

12,897 common assaults, making up 37% of all crimes and offences

796 recorded sexual offences, including rape and assault

463 incidents of attempted murder and serious assault
LAURA DODSWORTH
An ex-partner, ex-spouse or ex-civil partner of the victim was accused of domestic abuse in almost half of the recorded incidents.
In 3% of cases, both the victim and the accused were of the same sex.
More than two thirds of incidents took place in the victim's home.
Across Scotland, there were 109 incidents of abuse per 10,000 of the population. West Dunbartonshire and Dundee City had the highest number of reported incidents per 10,000 people.
Local authorities with the highest number of incidents per 10,000 people
West Dunbartonshire - 156
Dundee City - 153
Clackmannanshire - 151
Glasgow City - 147
Falkirk - 136
The lowest number of reported cases per 10,000 people was in the Orkney Islands and the Shetland Islands, with 47 and 50 respectively.
Police Scotland's Assistant Chief Constable Nelson Telfer said: "Domestic abuse is a continuing problem which affects every community across Scotland.
"Domestic abuse is often about control, the blame for which lies solely with the perpetrators."