Concern over number of remand prisoners in Scotland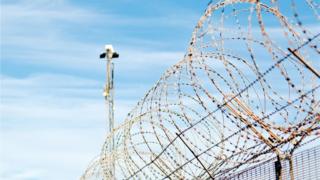 Scotland's prisons watchdog has expressed concern at the number of prisoners being held on remand.
The annual report from HM Chief Inspector of Prisons for Scotland said it continued to be about 15% of the total behind bars.
David Strang has called this a "clumsy, careless use of imprisonment".
The Scottish government said it wanted to see fewer "ineffective" short-term prison sentences and more "robust" community sentences.
Mr Strang's report also highlighted an increase in the number of women in custody, bringing into question the government's aim of cutting the female prison population.
The Scottish government said it was hoping to legislate to permit greater use of electronic tagging of to allow more alleged offenders to be granted bail while they await trial.
Overall the Scottish prison population has been falling from a high of 8,212 in 2012.
According to the independent think tank, the Institute for Criminal Policy Research (ICPR), the most recent figure is 7,421.
Serious cases
Mr Strang applauded the Scottish government for announcing its intention to extend the presumption against short sentences to 12 months.
But he said more needed to be done to reduce the number of prisoners remanded in custody awaiting trial, which can take several months.
He said: "This is a clumsy, careless use of imprisonment. Remand should only be used in serious cases.
"Many people held on remand do not receive a custodial sentence. It is almost as if remand is being used to ensure they turn up for their trial."
His report said the number of people held on remand continues to be in excess of 1,100 - almost 15% of the total Scottish prison population. More than 21% of females in custody are being held on remand.
He said this was at odds with the Scottish government aspiration to cut the number of short sentences imposed by the courts.
"It is recognised that serving a prison sentence intrinsically increases the challenges for someone when they return to their community," he said.
The prison reform charity Howard League Scotland (HLS) said that while remand was important in serious cases, it could have a devastating effect on those sent to prison for several months - which could lead to more offending.
Presumed innocent
"They could lose employment; they could lose accommodation, relationships, continuity of treatment for medical conditions," said HLS Scottish convener John Scott QC.
"But it's also important to remember in relation to remand prisoners that they are presumed innocent.
"Many of them will be acquitted and many won't receive prison sentences at the end of the period of remand."
The report found also the number of female prisoners appeared to be stubbornly stable at about 350.
It said with the demolition of Cornton Vale, and new units being provided around the country to house women prisoners, there would be a new capacity of 230 by 2020.
This meant much work was still to be done to ensure that only those requiring a custodial environment were sent to prison.
The Scottish government has consulted on proposals to introduce new laws to allow courts to grant bail to alleged offenders who would be electronically tagged to restrict their moments.
A spokesman said: "Ministers have made clear they want to see fewer ineffective short-term prison sentences, and greater use of robust community sentences.
"At the same time, we are committed to reducing the inappropriate use of remand, providing £1.5m of funding to local authorities over the past two years to improve the provision of bail support services for women.
"The number of women in custody in Scotland has gone down in recent years and we are working with partner organisations to continue that trend by taking action to address the specific needs of women in our justice system, including the development of a new female custodial estate."