The papers: Labour 'covered up' rape claims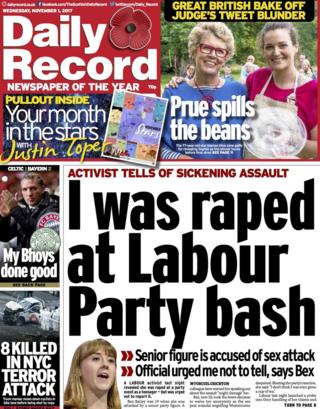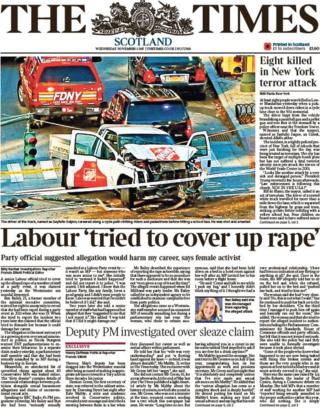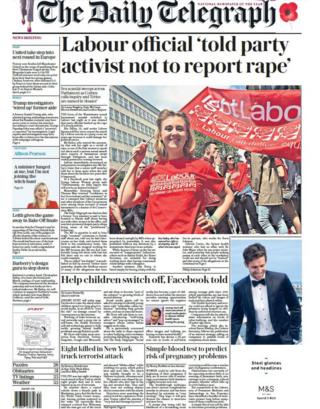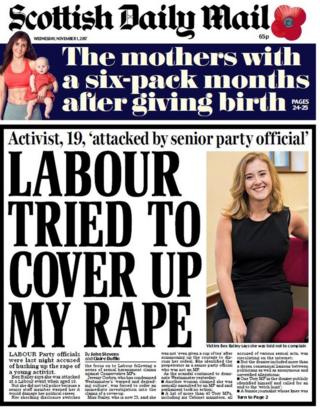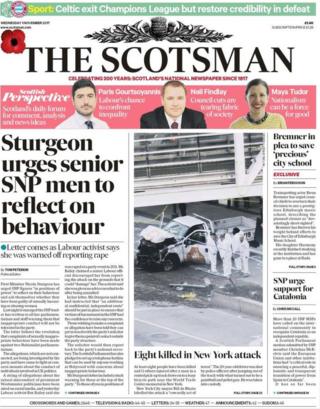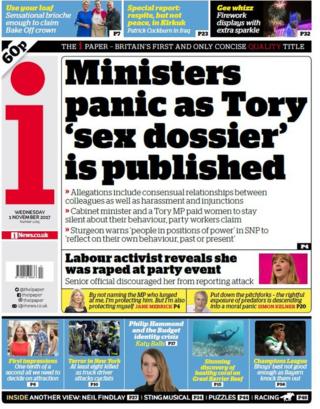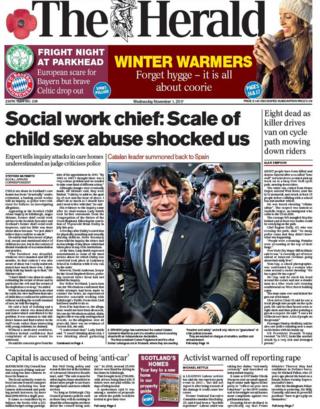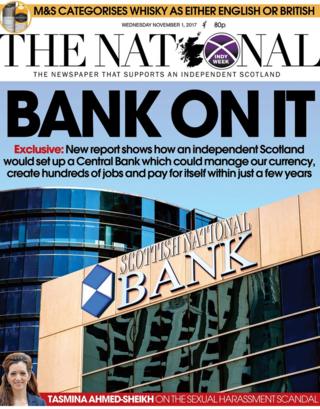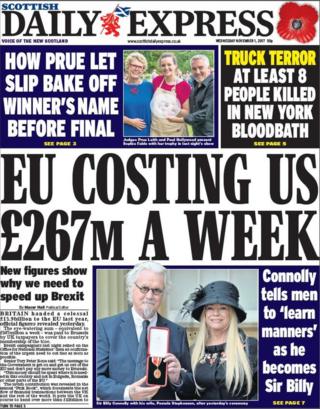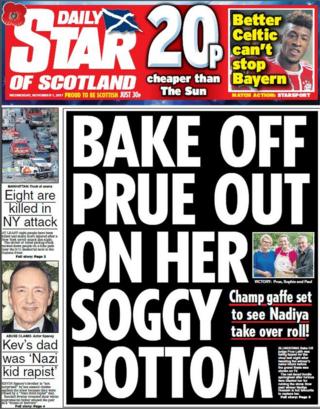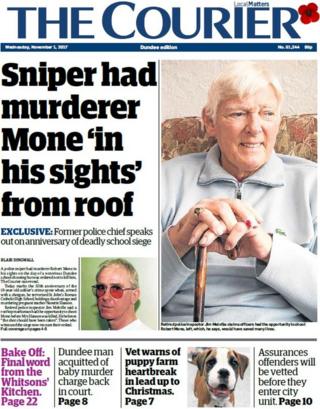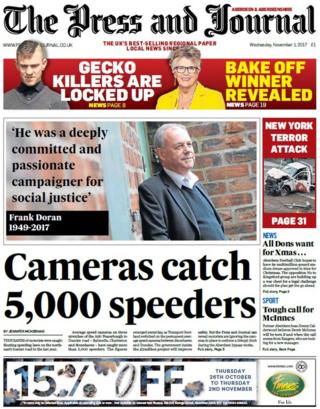 A Labour activist has revealed that she was raped at a party event as a teenager but was urged not to report it, reports the Daily Record.
The Times also leads with the story and writes that 25-year-old Bex Bailey, a former member of the national executive committee, waived her right to anonymity to reveal that she had been raped during a party event in 2011 when she was 19.
She is one of the first women to speak out about such a serious sexual assault since reports of harassment swept through Westminster, and has been widely praised for her bravery in coming forward, according to The Daily Telegraph.
The Daily Mail writes that Ms Bailey said telling her party bosses what had happened to her was a "horrible experience" and that she was "not even given a cup of tea" by officials who failed to support her.
Meanwhile, The Scotsman says that First Minister Nicola Sturgeon has warned about a cultural problem with "the behaviour of men" as she ordered a review of the way the Scottish government deals with complaints of sexual harassment.
Two prominent Tory MPs, including a Cabinet minister, paid women to be silent about their behaviour, according to a dossier of allegations circulating at Westminster, claims the i newspaper, which says 36 MPs are named on the list.
In other news, child sex abuse in Scotland's care homes has been "drastically" underestimated, a leading social worker told an inquiry, as police were criticised for failures in investigating allegations, according to The Herald.
An independent Scotland should establish its own national central bank, which would create hundreds of jobs and pay for itself within a few years, says The National.
Britain handed a "colossal" £13.9bn to the EU last year, according to The Express.
"Blundering" Bake Off judge, Prue Leith, was being tipped for the chop after tweeting the winner's name hours before the grand finale was shown on TV, according to the Daily Star.
The Courier leads with claims that a police sniper had murderer Robert Mone in his sights on the day of a notorious Dundee school shooting but was ordered not to kill him.
Thousands of motorists were caught flouting speeding laws on the north east's busiest road in the last year, says the Press and Journal of the average speed cameras that have been placed on three stretches of the A90.