Could Donald Trump back Scottish independence?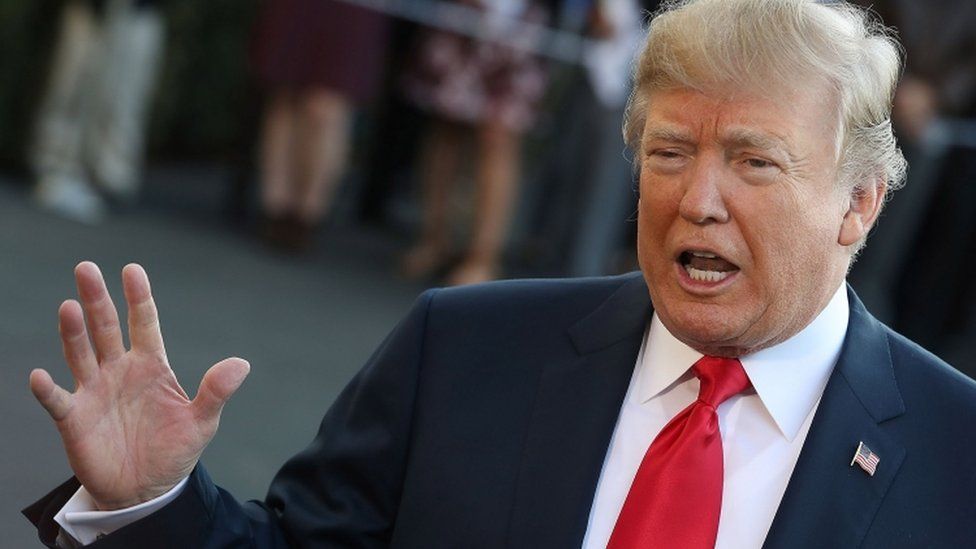 Donald Trump could back Scottish independence in a future referendum - but only if he thinks it makes economic sense, a former aide has said.
Sebastian Gorka said the US president "believes that nation states prosper when they are sovereign".
Mr Trump avoided taking sides in the 2014 referendum but has criticised independence since then.
Alex Salmond, the former first minister, said Mr Trump's support would only damage the independence cause.
Mr Trump has often expressed his love of Scotland, the birthplace of his mother Mary Anne Macleod.
But in a recent newspaper interview, he said Scottish independence would be "terrible" because the country might lose the right to host the British Open golf tournament.
The president aspires to host major tournaments at his courses at Turnberry in Ayrshire and Menie in Aberdeenshire.
In an interview with BBC Scotland, Dr Gorka said that "everything the president does is linked by one word: sovereignty" and that "he believes that nation states prosper when they are sovereign."
Asked whether Mr Trump's belief in sovereignty might attract the president to Scottish independence, Dr Gorka said: "If it makes sense".
"You've got to look at the nickel and dime at the end of the day," he added.
"You've got to look at 'does it make economically make sense?' 'Is there a future that is connected to devolution'?
"He's a pragmatist. So if it makes sense, pragmatically, why wouldn't he support it? I'm not saying he's there. But he is somebody who looks at the reality not the utopia."
In 2014, President Obama said America had a deep interest in making sure the UK "remains a strong, robust, united and effective partner".
During that campaign, the former US secretary of state, Hillary Clinton, said a Yes vote would be a "loss for both sides".
But Mr Trump, the candidate who would defeat her in last year's presidential campaign, used social media to wish "good luck to the people of Scotland, whatever their decision may be."
Good luck to the people of Scotland, whatever their decision may be on Thursday. The whole world is watching—really exciting!

— Donald J. Trump (@realDonaldTrump) September 15, 2014
Mr Salmond said Mr Trump had hedged his bets on independence in 2014 and had become more hostile since then.
The former first minister said that "without question" he believed the president could be persuaded to support independence.
But he raised concerns about the impact of any such backing.
Mr Salmond said: "The cause of Scottish independence depends on many, many things.
"It depends ultimately for one having a vision of the future where you look at how Scotland is governed and how the world is governed in a positive, enlightened, progressive way.
"I cannot feel that Donald Trump would do anything other than damage that vision by association."
Mr Salmond backed Mr Trump's plans to build a golf resort in what was his Aberdeenshire constituency.
But the pair later fell out and feuded over the Scottish government's support for an offshore wind farm near the course.
Sebastian Gorka was interviewed for the Donald Trump: Scotland's President documentary, which will be broadcast on BBC One Scotland, at 21:00 on Thursday 9 November. It will also be available on the BBC iPlayer.