Teaching union condemns Scottish schools shake-up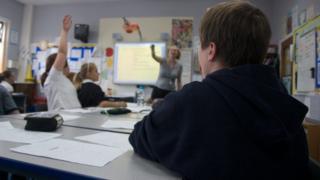 Scotland's largest teachers' union has strongly condemned government plans for a big shake-up in how schools are run.
The EIS said there was no evidence proposed changes to funding and governance arrangements would help children do better.
But the union is welcoming moves to make it easier to share good practice across different council areas.
The Scottish government has sought feedback on the changes and will publish a response "in due course".
It wants to give head teachers more powers and is consulting over school funding, in what would be the biggest changes in how schools are governed for decades.
Legislation is expected at Holyrood in the current parliamentary session.
The intention is to devolve as much power as possible to individual schools, and head teachers are arguing they are best-placed to take decisions on how to raise attainment.
Ministers are also consulting on changes to the funding arrangements for schools - they say there should be transparent arrangements to ensure the right amount is being spent and that schools in particular places should not receive more or less for no good reason.
Education John Swinney told BBC Scotland that he wants to "liberate" headteachers.
Speaking to the Good Morning Scotland programme, he said: "What I want to make sure is that headteachers are liberated to take the decisions that are important to deliver the learning and teaching that young people require within our schools.
"That means recruiting good and quality teachers, enhancing their professional development and leading the learning process within schools to make sure that young people have a high quality education."
Although the EIS agrees that head teachers should have as many decision-making powers as possible, it does not believe fundamental changes to school governance or the system for school funding are needed.
Some heads believe their local councils already give them the practical powers they need and fear being landed with more bureaucratic responsibilities - although the government insists this will not be the case.
In its response to the government consultation, the union argues the amount being spent on education - rather than the funding system itself - is crucial.
It expresses disappointment that the government appears to have ruled out a national funding formula for schools to ensure the appropriate amount is being spent by councils - instead suggesting schemes to give more funds directly to schools or heads.
It also argues that the impact of public spending cuts on council education budgets - and arguments over the differing amounts spent on pupils in different parts of the country - are a distinct issue from the system itself.
EIS general secretary Larry Flanagan stressed that the union was supportive of some aspects of the proposals, such as the potential for regional collaboratives to enhance the support available to schools.
But he added: "We do not believe that wider structural change or a new funding model are essential components in delivering the cultural change which is required.
"We do believe, however, that the level of resource provided to schools is critical in any initiative that aims to raise attainment and improve equity within the education system and we are calling for greater investment in teachers and schools."
Mr Flanagan repeated his calls for a national staffing and funding formula for education, which he said would help to increase equity and raise attainment.
The union also has concerns over "democratic oversight and accountability" for how funds are spent at a local level - arguing that decisions should be taken by a committee rather than individual like a head teacher.
It said the government had not provided any compelling evidence that its proposals would lead to improved outcomes for children.
And it claimed that no clear educational rationale was being presented to explain how funding changes will improve attainment or equity.
---
What's the background to this?
At the moment councils decide how much to spend on schools in their area although they have to work within certain national agreements such as pay.
Head teachers may have some flexibility to decide how this money is spent, for example deciding how many promoted posts are needed in their leadership team.
The money spent by local authorities is now supplemented by government money given to head teachers to spend on schemes to raise attainment.
The money is targeted at schools in disadvantaged areas and the amount heads get depends on the number of children who are eligible for free meals.
Many are keeping a close watch to ensure this money supplements the money spent by councils and does not replace it.
Heads can decide for themselves on what to spend the additional government money.
---
Another part of the government's plans had previously risked a serious row with local government.
Some councils had feared they would lose powers to new regional improvement collaboratives - originally described as regional education boards.
However, the government and council body Cosla reached a deal and the new collaboratives should be set up within weeks.
Their aim will be to make it easier to share good practice - councils will not lose any formal powers or responsibilities to them.
'Direct impact'
A Scottish government spokesman said: "As the deputy first minister has explicitly set out to parliament, there is no possibility of Scotland going down the route of Academies. This would not be right for Scotland's teachers or pupils.
"Instead, our approach is firmly based on evidence of what works and we know that how funding is targeted can have a direct impact on attainment.
"That is why the Scottish government is consulting on options for a fairer way of allocating funding to schools that puts children and young people at the heart of decision making.
"The vast majority of funding for school education will continue to be channelled through local authorities, who will continue to have a role in ensuring that public resources for education are properly accounted for."