Scotsman editor hits back at Alex Salmond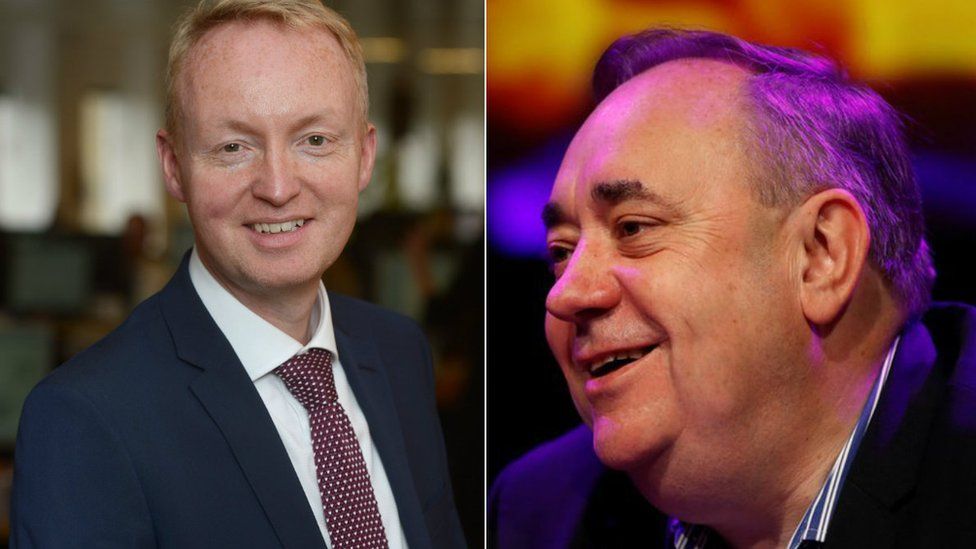 The editor of The Scotsman has spoken out against a move to install Alex Salmond as chairman of the newspaper's publisher.
In a stinging full page essay, he also cast doubt on Mr Salmond's claims that he would have no editorial control.
"I can't allow an ill-informed attack on The Scotsman to go unchallenged," he wrote.
The former MP, who lost his seat at the Westminster election in June, is part of a bid to install new leadership at newspaper group Johnston Press.
He would become chairman if plans led by investor Christen Ager-Hanssen are approved by shareholders.
In a statement on Thursday, Mr Salmond said newspapers published by the group would become "champions of the communities they represent".
He added that The Yorkshire Post would be "pro-Yorkshire" and The Scotsman would be "pro-Scotland"
However, Mr O'Donnell said he had already set out an "aggressively pro-Scottish" strategy when he was appointed editor in April.
He added that the paper does not support one political party over another and it strived to fill the newspaper with content about Scotland, written in Scotland.
"So Mr Salmond is either ignorant of the paper's content or perhaps he equates pro-Scottish as being pro-SNP," he added.
He goes on to raise the prospect of Mr Salmond installing a "pro-Nationalist" editor and interfering in editorial decisions.
"With The Scotsman, Edinburgh Evening News and Scotland on Sunday as well as 25 Scottish weekly titles, would he really sit patiently and let editors take decisions on stories?," he wrote.
"Those who know him well say he will want to get involved. And once a chairman starts to call an editor asking about a story, alarm bells should start to sound for editorial independence."
He said the increased circulation of The Scotsman - it increased 4.5% in the first six months of 2017 - proves it was "incorrect" to describe the newspaper as irrelevant.
It was disrespectful to both readers and staff, he added.
He concluded: "If I was searching for a top-class after-dinner speaker, I would definitely give Alex Salmond a call.
"But the man to help steer newspapers through their most turbulent times for 200 years? Perhaps not."
Mr Ager-Hanssen told BBC Radio Scotland's Good Morning Scotland programme it was "totally wrong" to suggest Mr Salmond would be involved in the editorial stance of the paper and there would "absolutely not" be any calls from the chief executive to tell editors what to write.
"What a CEO in a company like this in a group do, they appoint editors and editors decide what to write," he added.
On Mr Salmond he said: "We share the same mission, Johnston Press is a 250-year-old company, it is a Scottish company, I want to take it back as a champion for Scotland.
"My mother told me about The Scotsman newspaper way back in the 80s when I was living in Stavanger and how impressive that newspaper was.
"I want to take it back to that glory days. And I share the same mission with Alex."
Related Internet Links
The BBC is not responsible for the content of external sites.