Ovarian cancer drug 'could treat brain tumours'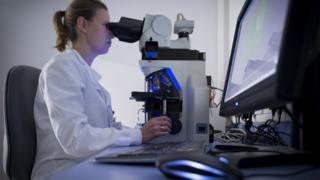 Scientists in Glasgow have discovered that a drug used to treat ovarian cancer could also treat brain tumours.
The research suggests the cancer drug olaparib could be an effective treatment for a common type of brain tumour known as glioblastoma.
A trial involving 48 patients was conducted where glioblastoma had returned after their initial treatment.
Early results found that the drug successfully reached brain tumours at high enough levels for treatment.
The research shows that the drug penetrates the core of the tumour as well as the surrounding areas. These areas contain smaller numbers of cancerous cells which cannot be removed by surgery.
Prof Anthony Chalmers, lead researcher and chairman of clinical oncology at the University of Glasgow, said: "Brain tumours are stubbornly difficult to treat and one of the main reasons for this is the blood brain barrier, a natural filter that blocks the passage of drugs.
"But these results suggest that olaparib is able to leak through because this barrier is disrupted in glioblastoma.
"By showing that this drug reaches brain tumours, we are in a much stronger position to use it to make current treatments more effective."
The Cancer Research UK-funded trial was undertaken at the Beatson West of Scotland Cancer Centre.
Dr Nigel Blackburn, Cancer Research UK's director of drug development, said: "Experimental trials like this, which test new ways to reach these hard-to-treat tumours, are crucially important if we are to see more patients survive their cancer."
About 265 people are diagnosed with glioblastoma in the brain every year in Scotland.
Findings from the trial will be presented at the National Cancer Research Institute's (NCRI) Cancer Conference in Liverpool.