Could community fridges replace food banks?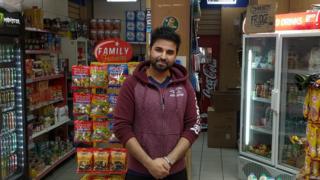 As demand for food banks rises, Rekz Afzal has started filling one of the fridges in his shop with free food for people in need.
The Paisley shopkeeper thinks community fridges could replace food banks.
The Trussell Trust, which runs 52 food banks in Scotland, says demand for emergency parcels rose 20% in the first half of this year.
The charity handed out 76,764 packages between April and September, compared with 63,794 in the same period in 2016.
Rekz thinks community fridges could "take a lot of pressure off the food banks".
"People in the community, no matter who they are, if they find themselves struggling, are able to take advantage of this fridge," he says.
"It will get them by until they are feeling more secure."
Customers can donate food directly to the fridge or fund it with spare change.
Rekz asks for proof that people who use the fridge are receiving help from the government before allowing them to take two items of food per day.
He says the community fridge concept has the potential to "shut down the food banks".
"People feel more comfortable about going to their local shop than a food bank. They might not want to make their situation known," he says.
"One of the main problems is access hours. The food bank in Paisley is only open three days a week - what do people do the other days?
"There are a lot more access hours to a community fridge than food banks. These shops are always open.
"My vision is to close the food banks, full stop. If food banks are only open for limited hours it's not serving their purpose properly."
'Crisis point'
Tony Graham, the Trussell Trust's director in Scotland, does not think community fridges are as effective as food banks at helping people in crisis.
"Community fridges are a great idea, and can sit alongside food banks in the patchwork of emergency food aid which communities can provide when people hit crisis point," he says.
"However, we do not agree that they can provide a replacement for food banks, which offer signposting, a listening ear, and increasingly, other services which can help tackle the underlying causes of poverty.
"Community fridges cannot always offer the food which would sustain people through a crisis, as they rely on people donating what they do not need."
Rekz says he'll keep running his community fridge, which has between 20 and 30 users, regardless of whether the idea takes off nationwide.
"Nowadays there's universal credit where people have to wait six weeks before they get anything - how do they survive for those six weeks?" he says.
"I feel there are a lot of gaps and community shops could fill those gaps.
"Small businesses only survive because the community supports them. When you as a business appreciate that and give back, it makes you totally complete within the community you serve."