Moray Council leader warns of 'bankruptcy'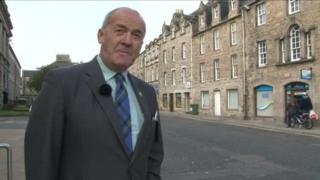 The leader of Moray Council has claimed it could be "bankrupt" by 2019 if it is not given more money for services.
The council is one of three identified by the Accounts Commission as being in danger of using up all its "rainy day" reserves in the next couple of years.
Council leader George Alexander told BBC Scotland he was simply "telling the truth" about the "dire situation".
Finance Secretary Derek Mackay said councils had been treated "very fairly" as part of Scotland's budget.
He said the Scottish government had faced 10 years of real terms reductions in its budget allocation from the UK government.
Mr Mackay said the share of the budget given to councils was "broadly in line" with the position in 2010/11.
'Not scaremongering'
There is often debate about just who should be held to account: councils themselves for the decisions they take, the Scottish government over the system for council funding or the UK government which provides much of the Scottish government's cash.
Councils in Scotland are obliged to balance their budget and they can use cash reserves to do this.
However, if they fail to deliver a plan for a balanced budget their responsibilities can be taken over by Scottish government civil servants.
"I don't think that has ever happened before," says Mr Alexander.
"We will do our utmost to avoid that."
However, Mr Alexander, an independent councillor, said the bankruptcy warning was "definitely not scaremongering".
Moray Council is run by a Conservative/Independent coalition.
In January last year, Moray said it wanted to raise its council tax by 18% to protect frontline services.
Revenue budget
It said a 1% council tax increase would raise just £400,000.
The council has a revenue budget of just under £200m a year.
Mr Alexander said it had saved about £35m since 2008.
"There is a limit," he said.
"We have made huge changes but the thing that worries me is that there is an underlying cut in services to the public."
Mr Alexander said Moray was not the only council struggling to balance the books.
"I think we are just open and honest," he said.
"When I go to Cosla and say that to council leaders they seem to think it is a very brave for a council to announce that.
"But they admit themselves that they are in a similar dire situations."
Could a council go bankrupt?
It's impossible to imagine a scenario where a council simply went bankrupt like a business.
Bankruptcies happen when a business is losing money and unable to pay its debt.
But it is possible that a council may one day find it impossible to produce a balanced budget.
By law, a council has to produce a balanced budget. If it's income - between council tax, business rates, money from the government and charges for using services - is insufficient it may choose to use cash it holds in reserve for emergencies.
Councils can borrow to invest but not to pay for day to day expenditure and simple running costs.
There could come a time when the choices which councillors would need to make to produce a balanced budget prove so unpalatable that an agreement is impossible.
If a council could not produce a balanced budget before the deadline, the council would be in uncharted territory.
But the likelihood is that Scottish government civil servants would then step in. Their priority would almost certainly be to ensure that day to day council services continued while a way forward was found.