My brain 'exploded' after kick in the head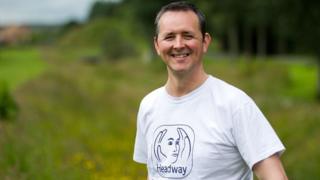 Colin Robertson knows he could have died when he was kicked in the head on a night out, but it was almost a year before the long-term effect of the brutal attack became clear.
The imprint of a boot on his head and a fractured skull were the outward signs of Colin's injuries but he also suffered blackouts, dizziness and headaches.
About 10 months later he felt an "explosion" in his brain while out cycling.
A brain haemorrhage from the attack had led to a stroke and left Colin without the ability to read, write, speak and eat.
At one point he could not remember the names of his children.
The attack that changed his life was 14 years ago and Colin has spent much of that time fighting to recover from its effects.
He has now been nominated for a prize at the National Brain Injury Awards, organised by the charity Headway.
It recognises his support for fellow brain injury survivors and their families as well as his work educating children.
Colin, who is now 48, remembers "vividly" the night he was attacked in Livingston in 2003.
He was set upon by three men on a night out in the West Lothian town.
"I was in the wrong place at the wrong time," he says.
Colin was knocked unconscious by blows to the head and, as he lay on the ground, he remembers a young girl jumping in to stop a man taking another kick at his head.
"I felt at that time if I had taken another kick that was basically me, I was gone," he says.
"Thankfully for me, a young girl jumped across me and she took the kick instead.
"In effect, she was one of many people who saved my life throughout my recovery."
Colin was treated in hospital for his injuries but a small bleed in his head went unnoticed.
"I knew something was wrong but I didn't know what," he says.
"Ten months later my head exploded while I was on my bike.
"I have never suffered a pain like it."
He says: "I tried to shake it off but it was like an explosion. There is no real way of describing it.
"It was one of those ones where you feel you have to clutch your head because the blood had escaped and it had nowhere else to go and it was putting pressure on the brain."
Years to recover
Colin pulled off the road in pain and suffered a stroke.
"My left side was gone so I could not get off the floor," he says.
"I tried to pull myself up on a small wall, shouted for help and thankfully a woman appeared and she made a call and I got to the hospital."
He had three operations, including removing part of his skull to be able to operate.
After his stroke, Colin had balance issues, his speech and memory were badly affected and he could not walk.
"People find it hard to keep chatting to you because you are unable to speak at normal speed," he says.
"You find out who your real friends are."
Colin, who still has epileptic seizures as a result of injuries, says his road to recovery has taken years.
He had to use a walking frame - or a zoomer as he calls it - to get around and had to completely "retrain" his brain to be able to speak properly.
He says he tried to keep as active as possible to help with his mental and physical wellbeing.
"The first six months to a year is the fastest part of your recovery, thereafter it slows right down," he says.
"It can get you down but then you would look back and think 'I couldn't do that before'.
"Even simple things like going for a walk works the brain so hard because of the co-ordination and watching what is around."
Raising awareness
As time went on, Colin says he wanted to help others who were struggling with the impact of brain injury as well raising awareness and understanding.
Five years after his stroke, Colin began volunteering with brain injury charity Headway.
He has since given talks to 10,000 school pupils and 500 teaching staff in a bid to prevent cycling-related head injuries.
He says: "We are encouraging kids to wear helmets not just for bikes but for scooters and skateboards.
"The point we are making is if you fall off any of these you can sustain a brain injury.
"We are giving them a little insight into the brain and how we need to protect it and the effects of a brain injury."
Colin has been nominated for the volunteer of the year prize at the National Brain Injury Awards on Friday.