'New dawn' for Scottish private renters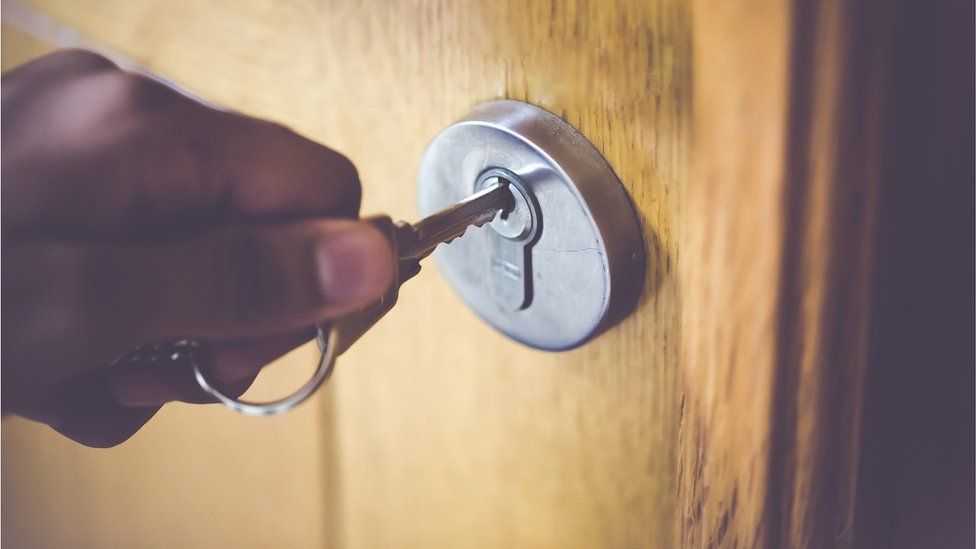 Major changes to the law have come into effect for Scotland's 760,000 private renters.
The private residential tenancy rules will bring an end to fixed-term rentals, meaning leases will effectively be open-ended.
Rent increases can only be made once every 12 months, and tenants who believe them to be unfair can take them to a rent officer.
Shelter Scotland described the change as a "new dawn" for private renters.
Anyone signing a tenancy from 1 December will be covered by the new rules.
All landlord and tenant disputes will be heard in a new specialist tribunal and, from next month, all letting agents will have to register and adhere to a code of practice.
Tenants will have indefinite security of tenure, meaning "no-fault" evictions will no longer be possible.
Other key measures include:
Longer notice periods, with tenants who have been in a property for more than six months receiving at least 84 day notice to leave, unless they are at fault
Simpler notices, with a simpler notice to leave process
The introduction of a model tenancy agreement which can be used by landlords to set up a tenancy
The new law does, however, allow landlords to ask tenants to leave on a number of grounds, including wanting to sell or refurbish the property or if they intend to live there themselves.
If the tenant fails to vacate at the end of the notice period, the landlord can apply to a tribunal for an eviction notice.
The new law has been welcomed by housing charity Shelter Scotland.
Director Graeme Brown said: "Today represents a new dawn for all private renters in Scotland.
"These new laws bring unprecedented security of tenure to private renters, with landlords now needing a good reason to evict tenants.
"We have campaigned passionately for 10 years now for reform of private renting in Scotland, ending with our Make Renting Right campaign, which had extensive support from the public and local and national politicians."
He added: "Shelter Scotland is pleased to be working with the Scottish government on a major awareness raising campaign to ensure that everyone involved in private renting - from tenants and landlords to letting agents and housing professionals - understand their new rights and responsibilities."
Independent property specialists Rettie and Co have landlords and tenants as clients.
Their director of research Dr John Boyle said: "It will make things a bit easier to organise. It should be a smoother process with less paperwork."
He pointed out that most tenants and landlords have a good relationship, but said the rules will change when things go wrong.
"The end of no-fault possession will be a concern," he said. "(But) there are grounds for possession and these may prove to be workable."
Dr Boyle said some owners will worry that there is no initial minimum period of rental.
He said: "In essence, the tenant has long-term security but the landlord does not. That weakens security for the landlord."
In areas like Edinburgh, Dr Boyle said there may be problems for landlords who rent to students during term-time, then to festival-goers in the summer.
Some landlords may decide to pull out of the student letting sector if they cannot be sure of students moving out at the end of the academic year.
The legislation also allows for Rent Pressure Zones, where annual rent increases would be capped. Dr Boyle points out that, in other countries with similar regulations, long waiting lists for housing can build up.
But the Scottish government believes it has struck the right balance between the needs of tenants and landlords.
Housing minister Kevin Stewart said: "This is the biggest change to the sector for a generation and will bring about significant improvements in private renting, benefiting both tenants and landlords.
"We want to ensure everyone has a safe and warm place to call home.
"The new tenancy sits alongside our wider ambitions for housing in Scotland - not least our ambitious commitment to deliver at least 50,000 affordable homes during this parliament, including that for rent."
What is it like to live in rented accommodation?
Leanne McGuire has lived in the private rented sector for most of her adult life. With her daughter Cleone to consider, she says security of tenure has become very important.
"I've lived in private rent from when I was about 20, so you're talking 17 years I've been private renting.
"In those 17 years, I've had four or five flats sold from under me.
"Before I had Cleone, I moved around a lot - of course I did because you're younger and you don't really have a lot of responsibilities.
"If I didn't like a flat that was fine. I just moved our after six months.
"But since having Cleone we've settled and unfortunately that first flat that we had together - it was very sudden - I had been paying rent but the landlord hadn't been paying his mortgage.
"We ended up having to be evicted from there and move on.
"Then the next flat we stayed in for seven years, which was great.
"We had put down a lot of roots. That's where Cleone grew up, almost.
"Unfortunately we found out last year that (the landlord) wanted to sell and he gave us two months to find somewhere else."
Related Internet Links
The BBC is not responsible for the content of external sites.