Police officers from across Scotland awarded for bravery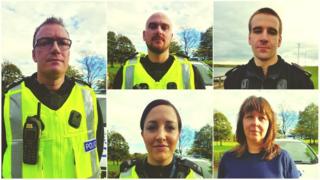 Six police officers who worked to free two girls from an overturned car in a flooded river have been honoured for their bravery.
They pulled the 12 and 14-year-olds from the vehicle in Aberdeenshire in December 2016 - though the elder child later died in hospital.
They were among 23 officers recognised by the Scottish Police Federation (SPF) at an awards ceremony in Edinburgh.
The awards are for acts of bravery by police officers both on and off-duty.
Sgt Andy Sawers and constables Kirsteen McArthur, Carolyn Wright, Calum McDougall, David Ritchie and John Grant were awarded the overall Scottish Police Federation Bravery Award at the ceremony on Thursday.
In December last year, a silver Audi came off the road near Ellon and ended up on its roof, submerged in freezing cold water.
The driver managed to get out of the car but the two children were trapped inside.
Several of the officers went into the water to try to free them, with Ms Wright going underwater and prising the car door open with a crowbar.
They managed to get one girl to shore and stayed in the water trying the rescue the elder girl who was trapped by her seatbelt.
They eventually succeeded and administered CPR but she died later in hospital.
Sgt Sawers said: "The whole team really pulled together so well, we just got things done that needed to happen. It was dark, confusing and freezing but everyone worked hard to save those girls."
The team said that while they are honoured to win the award, their thoughts remain with the bereaved family.
Justice Secretary Michael Matheson said: "These heroic attempts, in extraordinarily difficult circumstances, to try to save the lives of two young girls, reinforce everything that we have come to expect from officers from Police Scotland."
Other bravery award winners were PC Christopher Starkie and PC Daniel Gabrielli from Aberdeen, who helped save the life of a 13-year-old boy in August last year, following the death of his mother and younger brother in a swimming accident at Aberdeen Beach.
Andrea MacDonald, chairwoman of the Scottish Police Federation, said: "This was an extremely fast moving, unpredictable and dangerous incident - and when confronted by such scenes, officers have to make split second decisions.
"This was a very sad day but these brave police officers did all they could, saving a teenager's life in the process."
Det Con Brian Todd, from Leith, while off-duty, disarmed a drunken man with an air rifle, who was shooting at people on Gorgie Road in Edinburgh in October 2016.
He chased the man, identified himself as a police officer and took the weapon from him.
He said: "The guy had a rifle and was of great concern. He clearly posed a danger to the members of the public who were present, so I knew I had to do something about it."
PC Paul Brownlee and PC Greg Gavin from Dalkeith saved the life of a man who was attempting to jump off a bridge over the River Esk in Dalkeith in April.
Others who received awards were:
PC Michael Baxter, PC Derek Paton, PC David Robertson and PC Liam Burns from Glasgow, who subdued a man swinging a nail headed baseball bat and who had set fire to the block of flats he lived in.
PC Daniel White and PC Alexander McCullough, subdued a man, who was covered in blood from self-inflicted wounds and carrying dangerous weapons on West Nile Street in Glasgow.
PC Scott Douglas, from Bellshill, was off duty when he helped save the life of a young woman who was planning to jump off a bridge over the M80, near Cumbernauld.
PC Deborah Lawson and PC Robert Fitzsimmons, for intervening in a firearms incident in Glasgow, which left both officers with "significant injuries".
PC Iain Fotheringham, PC Christopher Wood and PC Andrew Gamble, for saving a 14-year girl who was being attacked by a "bull mastiff" type dog in Edinburgh.