Scots facing Christmas loneliness epidemic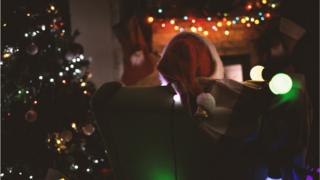 There has been a 50% increase in the number of Scots pensioners who will spend Christmas day alone since 2015, new figures suggest.
Age Scotland said about 60,000 people over the age of 65 would experience the day without family or friends.
The charity said the figures represented a surge in the "epidemic" of loneliness.
They have launched their No One Should Have No One campaign to highlight the issue of isolation across the country.
A combination of factors including longer life expectancy, bereavement and poor health are thought to add to the likelihood of a person experiencing loneliness.
'Television for company'
Brian Sloan, chief executive of the charity, said: "The epidemic of loneliness among older people is having a devastating impact on their health and wellbeing.
"While most of us are looking forward to spending the festive period with family or friends, it's sobering to think that 60,000 older Scots will have only their television for company.
"Many more will go for days without a visit or even a phone call from family or friends."
The issue can cause poor physical and mental health and has been linked with conditions such as heart disease and dementia.
About 80,000 people over 65 feel lonelier at Christmas time than at any other time of year, with those who have been widowed most at risk, according to the study.
The same number see television as their only source of company over the festive period, with nearly one in five keeping it on all day because "it's lovely to hear human voices".
Lorna from Edinburgh told BBC Radio Scotland's Stephen Jardine programme she was going to spend Christmas on her own because her son was flying out to Australia for a holiday over the festive period.
Social isolation
She said: "I'm going to be on my own. I suffer from loneliness throughout the year, so much so that my doctor wanted to put me in a home, but I don't want to go into a home just because I suffer from loneliness.
"I'm really dreading Christmas. My birthday is in December and I'm going to be on my own for that as well. I really dread this time of year."
Age Scotland is calling for greater community engagement with the elderly as well as a national strategy to coordinate responses across organisations.
The Scottish government is due to publish its strategy document on dealing with social isolation.
The study interviewed 2,585 adults over 65 across the UK, including 268 in Scotland, with figures weighted to represent all Scottish OAPs.