Delays increase missed GP appointments says study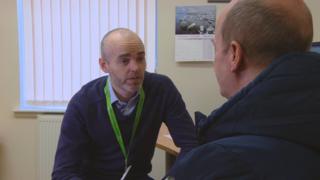 Delays of two or three days between phoning to see a GP and the actual appointment increase the chances of patients not showing up, a study shows.
Research published in the medical journal The Lancet looked at millions of Scottish GP appointments over a three-year period.
It showed that on-the-day appointments were less likely to be missed.
It also suggested that patients from the most deprived areas were most likely to miss multiple appointments.
The study, which involved researchers from Glasgow University and the University of Aberdeen as well as other medical schools, looked at more than 130 GP practices across Scotland over a three-year period to September 2016.
Data from more than half a million patients and 13 million appointments was analysed:
54% of patients missed no appointments
27% missed one appointment
19% missed two or more appointments
12·1% of all appointments were missed
90.9% of no-shows were by patients who missed more than once
The highest rate of multiple missed appointments was for patients over 75
Women used GP services more often than men and were more likely to miss multiple appointments
The study said the most important factor in predicting the likelihood of missing larger numbers of appointments was high levels of socioeconomic deprivation.
Urban practices were more likely to face a higher risk of missed appointments, with a reduction as practices became more rural.
Dr Ross McQueenie, from Glasgow University, one of the authors of the report, said delays between phoning the surgery and the actual appointment played a "huge role" in whether patients showed up, especially for people from the most deprived areas.
"Even delaying the appointment by two to three days makes people much less likely to attend," he said.
Dr McQueenie said patients from areas with the highest levels of deprivation tended to have more long-term health conditions which could make life "more chaotic", with more appointments to attend.
He said failing to attend a GP appointment was "health-harming behaviour" and doctors should find positive ways to encourage them, which avoided punishments such as fines.
"Being able to offer appointments on the day greatly increases their likelihood of attending," he said.
"If people are able to attend appointments and get treatment early then they are not as far down the road with their illness.
"That can have positive cost implications for the NHS and for the health of the person themselves."