Report highlights 'gender imbalance' at Scottish universities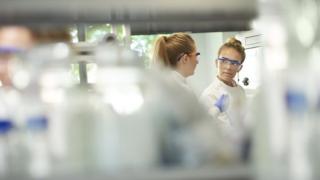 Women are still far more likely to start a university course than men, according to a report by the body that pays for Scottish university places.
The Scottish Funding Council says nearly six out of 10 first-year Scottish students are women.
The gender imbalance is even starker in some individual courses, like nursing and engineering.
The Scottish government wants to reduce the gap between the number of male and female students to just 5% by 2030.
In 2015, 41.3% of new Scottish university students were men compared to 42.5% in 2011.
The report reads: "Over the last five years the gap in participation between males and females has increased from 14.9 percentage points to 17.4 percentage points in 2015-16.
"The gap between males and females showed a slight declining trend until 2013/14 but in the two academic years since then the gap has increased."
The report also highlights how some individual subjects are overwhelmingly studied by men or women: for example more than 85% of engineering students at Scottish universities were male while around 90% of those studying nursing are female.
But it also points to where significant progress has been made - for instance in building services and mechanical engineering.
The SFC report refers to the years before the government unveiled its gender action plan last autumn.
The plan has two main goals which the government wants to achieve by 2030:
The overall gap between male and female enrolments at university will be cut to 5%
No college or university subject will have a percentage gender imbalance greater than 75/25.
The publication of the SFC report coincides with a national gender conference bringing together experts and practitioners from across Scotland.
Minister for Further and Higher Education Shirley-Anne Somerville said: "Gender should not be a barrier to people realising their potential and I am concerned by the imbalances that still exist in some careers and courses, for example in STEM or childcare.
"I am heartened by the progress that has already been made since the gender action plan's inception, as it is imperative schools, colleges and universities work together to widen access to traditionally gendered subjects and support students to make the right choice for them."
John Kemp, interim chief executive of the Scottish Funding Council, said: "Our gender action plan is 15 months old and sets out an ambitious and challenging path to the major changes we want to see by 2030.
"Today's report shows where we've started out from. As we would expect, some evidence provides grounds for optimism and some evidence points to areas where we need to work harder or revise earlier plans.
"I am optimistic about the progress that will be made and the positive effect that will have on society."