Scottish crossbill faces climate change extinction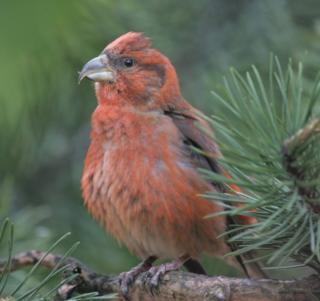 The Scottish crossbill is at risk of extinction because the climate is unsuitable, new research has indicated.
It is the only British bird species that is found nowhere else in the world.
Other species are moving further north as temperatures rise and habitats change, according to an RSPB report.
The State of the UK's Birds 2017 highlights the average summer temperature is nearly 1C higher than in the 1980s.
The Scottish crossbill is found in the pine forests of the Highlands.
Numbers have also declined among dotterel, whimbrel, common scoter and snow bunting populations.
Slavonian grebe numbers have also been hit due to periods of very heavy rainfall during breeding season.
Dr David Douglas, Principal Conservation Scientist at RSPB Scotland, said: "Many birds in Scotland are being affected by a changing climate.
"For some birds this means they are becoming increasingly vulnerable to UK extinction, including many species where most, if not all, of the breeding population is found in Scotland.
"Other birds appear to have thrived in this warmer, wetter climate, which has allowed them to expand their range further north."
Some species which were previously less common in Scotland are now breeding in higher numbers, according to the wildlife charity.
The swallow, which migrates to and from southern Africa, is arriving in Britain 15 days earlier and breeding 11 days earlier than it did in the 1960s.
Migratory birds such as garden warblers and whitethroats are also delaying their return migration each autumn. Some species are now spending up to four weeks longer in the UK each year.
The report also suggests resident garden birds are changing their behaviour. The great tit is laying its eggs 11 days earlier than 40 years ago.