Fears over rising use of new psychoactive substances in jails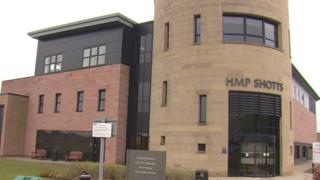 Concern over a rise in new psychoactive substances (NPS) use in jails has been raised by the prisons watchdog.
The issue features in an inspection report on Shotts maximum security prison in Lanarkshire.
Prisoners and staff said they were anxious about the unpredictable behaviour caused by NPS - formerly known as legal highs.
The Scottish Prison Service (SPS) said it was dealing with the problem as rigorously as it could.
Shotts is unique in Scotland because it is exclusively for long-term prisoners serving four years or more.
Of the 531 prisoners at the time of the inspection, more than 60% (312) were sentenced to more than 10 years, with almost half (261) serving life terms.
'Behave bizarrely'
The report from HM Inspector of Prisons in Scotland (HMIPS) said it was "calm and well-ordered", with most prisoners stating good relationships between staff and inmates were responsible for their sense of safety.
But prisoners and staff told the inspection team they were anxious about the unpredictable behaviour caused by the use of NPS, creating heightened concerns about personal safety and well-being.
Scotland's Chief Inspector of Prisons David Strang, said this was a problem throughout Scottish jails, and he had challenged the SPS to detect as much as it can.
"The difficulty is that people don't know what they're taking," he said.
"The chemical composition can vary from month to month, the quantities aren't in any way controlled and the impact can be very severe.
"People can behave bizarrely; they can appear to have extreme strength and it puts their health at risk seriously."
Laws were introduced last year to criminalise the production, distribution, sale and supply of NPS.
Drugs such as the synthetic marijuana, Spice, have been blamed for an upsurge in violence in English jails.
'Far from complacent'
But Mr Strang said he was unable to say why the problem appeared to be worse south of the border than in Scotland.
The SPS said there always had been an issue in Scottish prisons of people using illegal substances.
Tom Fox, SPS director of communications, said: "We are far from complacent about this issue.
"We spend a great deal of time and invest a great deal of staff energy in detecting these substances and removing them from circulation in our prisons.
"This is the latest in a long series of challenges, and we're dealing with them as rigorously as we possibly can."