Challenging times for car showrooms as sales slump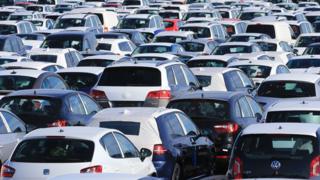 The best spin that can be put on the handbrake turn in the car showroom's fortunes is that the market is going through a correction.
This week saw the latest, monthly new car registration figures from the Scottish Motor Trade Association were down 24%.
In November 2016, 15,300 cars were registered: last month, 11,600. In Strathclyde, covering half the Scottish population, the fall was 35%.
Compare that with the figures for the UK as a whole, from trade body, SMMT - down by 11%.
If, like me, you've had ever more desperate pitches from car sales forces with your name on their databases, then this might help explain why.
The figures have been falling for eight months, after years of impressive growth. To go back a decade, the emergency brake was applied to car-buying with the financial crunch and recession, and government action got things moving again.
The Cash for Bangers scheme, deployed by Alistair Darling when he was chancellor in the Labour government, had some of its desired effect in keeping the car market on the road at a time of crisis. (I preferred the American scheme's name: Cash for Clunkers.)
Then, in came the revolution in car finance, offering the opportunity of moving up a gear or three in the prestige car stakes by pricing them by the month, and effectively on a long-term lease.
That made the industry into the finance arm of the motor manufacturers, often making more commission from selling the finance package than selling the car. It put them on a virtuous cycle of providing personal finance for new cars, then turning over new deals when the lease ends.
This has recently gained the worried attention of those whose job it is to scan the financial horizon for potential bust.
It has also had a perverse effect. So successful have personal finance plans been that the hardback of second hand cars has flooded the market. The price of second hand cars has fallen, so the dealership beancounters have had to re-calculate the deals. After three years, at the point of rolling over a new deal, the used car is worth less than they expected.
Radio Four's Moneybox explained it this weekend, with the example of an Audit A3. A year ago, you could drive it away for £2,000 deposit, £2,300 dealer contribution and nearly £200 per month for three years. The same car now costs the same for the deposit, but £1,500 dealer contribution and nearly £300 per month.
That's also because the price of cars has gone up, as the value of sterling has gone down - including British-made cars, which are full of imported components and materials.
The more recent concern comes from the slowdown in consumer and business confidence, where caution about big ticket spending is an early sign of wider concern about budgets being squeezed and insecurity seeping in.
Business registrations across the UK fell 33% last month, when compared with November 2016. Fleet registrations, including rental firms, were down 14%. The private buyer took registrations down least, by 5%. So it seems the caution is clearest among businesses.
The same pattern was clear in Scotland, though all three categories were much worse: 48% down for business, 34% for fleet, and private registrations down 9%.
What has turbo-charged the industry has been the problem with diesel. Starting with Volkswagen's criminal dishonesty in using software to disguise fuel consumption, publicity around nitrogen oxide emissions then kicked in.
While diesel may look better on fuel efficiency, the industry admits that cars sold up to around 2005 are NOx-ious polluters. You'll hear them claim that the euro 6 engine, now the minimum required of new European cars, is much cleaner.
But with vague warnings from UK governments and London politicians that punitive charges could be on the way for older diesels, the message has got out.
In Scotland, last month's registrations of new diesel cars fell a whopping 41% on last November. Across the UK, that decline was 31%.
Philip Hammond's Budget contributed to the impression that diesel generates foul tax fumes, raising duty for the first year on new diesels that fail to meet the latest emission standards. This is not so much a way of driving people to the most efficient cars: it is an incentive to industry to invent the technology necessary.
The industry suggested this sends an odd signal - to avoid tax, hang on to your dirty ol' clunker, rather than getting something shiny and cleaner.
Just along the road is another big challenge to the industry - adjusting to electric cars. The Westminster government wants to phase out diesel and petrol cars by 2040. Nicola Sturgeon wants to do so in Scotland by 2032.
Getting there takes more than some wishful thinking. City of Edinburgh Council set out a strategic plan to find out how it is to adapt to electric cars. It has nearly quarter of Scotland's total registered vehicles within the capital's boundary. But there are only 58 public charging points so far, and getting more in place needs a lot of strategic thinking, and money.
Also this week, we heard from the Scottish government about new low emission zones, starting with Glasgow next year.
The announcement from Humza Yousaf was not welcomed as a model of clarity. After a consultation, there's a lot more work still to be done before we see the shape of the zones.
But they introduce some significant questions about future policy. If you can throw an electronic zone around part of a city for diesel fumes, then why not also for road pricing? And having sacrificed that amount of personal privacy to the cause of the environment, why not roll out road pricing throughout the country, replacing Vehicle Excise Tax?