New Netflix drama Outlaw King boosts film sector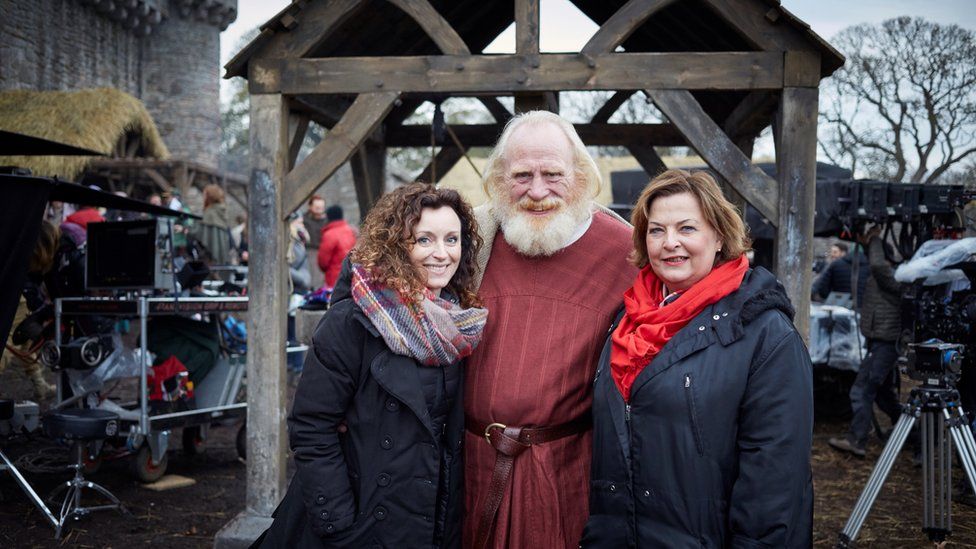 New Netflix historical drama Outlaw King is boosting Scotland's economy by more than 10 times what was spent on it.
The Scottish government says the film has already generated £17.5m and increased employment opportunities.
The production was awarded £500,000 from the Production Growth Fund and another £500,000 from the National Lottery, through Creative Scotland.
It was shot in locations including Craigmillar, Aviemore and Glencoe.
Principal photography is now complete on the feature film which was produced by Glasgow-based Sigma Films and backed by streaming service Netflix.
Directed by Scottish director David Mackenzie, Outlaw King is one of the biggest productions ever made in Scotland.
Bringing significant benefits to the growing screen sector, it has provided work for Scottish cast and crew, utilised Scottish locations and facilities, and provided opportunities for 35 trainees.
The Production Growth Fund aims to maintain a steady stream of work for Scottish-based crew by encouraging screen productions to be based in Scotland.
Culture Secretary Fiona Hyslop visited the set at Craigmillar Castle, Edinburgh, where she met cast, crew and production trainees.
Ms Hyslop said: "We know that encouraging film and TV productions to base themselves in Scotland generates significant returns for the Scottish economy and opportunities for our skilled crew. A major production like Outlaw King brings huge benefits to the whole screen sector, as well as related businesses.
"Having our stunning locations featured in screen productions also increases tourism."
She added: "Some of the locations featured in "Outlander" have seen visitor numbers increase significantly - Doune Castle recorded an increase of 91% since being featured in the series.
"Total production spend on film and TV in Scotland has increased by more than 200% since 2007, and I'm delighted to welcome Outlaw King as the latest chapter in this great success story."
Gillian Berrie, producer of the film, said: "We are delighted that Scotland and its people will benefit from the legacy of this for years to come.
"Sigma Films are dedicated to nurturing the next generation of filmmakers and to that end have employed 35 trainees on Outlaw King working across all departments."
Natalie Usher, director of screen at Creative Scotland, said: "We are delighted that Netflix is backing David's next feature, Outlaw King, and we are proud to have supported the project in both development and now with awards from the Production Growth Fund and the Screen Fund.
"This exciting project, from one of Scotland's leading production companies, about one of Scotland's most iconic historical figures, provides the ideal opportunity to promote Scotland's rich history, the ambition and talent of our filmmakers, and Scotland's ability to develop and produce films of an epic scale with an ability to engage an international audience."
It also stars Scottish actors James Cosmo, Tony Curran, Steven Cree, Chris Fulton and Alistair Mackenzie.
Meanwhile, Ms Hyslop has signed off on the proposal to establish a new Screen Unit within Creative Scotland.
The unit will work to enhance Scotland's screen industry by aligning and co-ordinating public sector investment and support more effectively.
The collaborative proposal outlines how the unit will operate to capitalise on opportunities for the sector.
It was developed by Creative Scotland, Scottish Enterprise, Highlands and Islands Enterprise, Skills Development Scotland and the Scottish Funding Council, with input from people and organisations working in the screen sector.
Related Internet Links
The BBC is not responsible for the content of external sites.