Mesh risks not passed on to doctors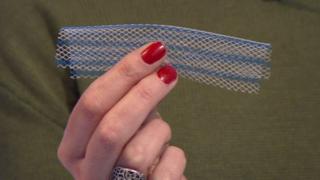 One of the world's biggest medical companies failed to tell doctors and patients of the full extent of some of the risks posed by mesh implants.
A BBC Panorama investigation has seen documents that show one of Ethicon's own in-house doctors warned it had not updated information on complications.
Ethicon is wholly owned by pharmaceutical giant Johnson & Johnson.
It said doctors were informed of the risks and that the company cared deeply about patient safety.
Over the past 20 years, more than 100,000 women across the UK have had transvaginal mesh implants, which are used to treat prolapse and incontinence, often after childbirth.
Chronic pain
The vast majority of women suffer no side effects but others have reported chronic and debilitating pain, with some being left unable to walk.
The plastic meshes, which are made of polypropylene - the same material used to make certain drinks bottles - are used to support organs such as the vagina, uterus, bowel, bladder or urethra which have prolapsed.
The Panorama investigation obtained insider emails that show Ethicon was warned repeatedly by one of their own in-house doctors, about the risks of mesh.
Post-market knowledge
In 2008, Ethicon's associate medical director wrote to managers at the company with her concerns about the fact the information provided by Ethicon to surgeons had not been updated since 2005.
She said "post-market knowledge" of the products had provided much more information than was given to doctors.
The associate medical director recommended updating the "potential adverse reactions" section of the Instructions for Use (IFUs) for all types of TVTs (tension-free vaginal tape) it had on the market at the time.
In January 2009, she wrote again to say the information for doctors had not been updated and still referred to several complications as "transitory".
"From what I see each day, these patient experiences are not 'transitory' at all," she wrote.
Constant pain
Claire Daisley, from Greenock, is 48.
She struggles to walk after a simple operation to treat a weakened bladder.
She is in constant pain.
Claire had the mesh surgically removed but it can be difficult to take out and after the operation her pain got worse.
She now faces having her bowel removed.
"I don't want to be here any more," she said.
"That's how far it's taken me because sometimes you don't know if you can take the next day."
She is one of 501 women in Scotland now taking legal action.
Dr Wael Agur, a consultant urogynaecologist, told Panorama that the information for use leaflet was vital for doctors.
"It's so important for me as a surgeon to understand full the risks of a medical device I'm about to implant during a surgical procedure and my first resource would be the instructions for use," he said.
"I would expect the manufacturer to have a comprehensive list of the adverse events and the risks within the instructions for use so I fully understand these and communicate them."
A spokeswoman for Ethicon said: "The risks associated with the use of a permanent mesh implant were properly identified in Ethicon's Instructions for Use (IFUs)."
Clinical testing
Documents seen by Panorama also show that the clinical testing of the vaginal tape TVT Secur before it was put on the market only included trials in sheep and five weeks' monitoring in 31 women.
Carl Heneghan, professor of evidence-based medicine at Oxford University, said: "It's just unacceptable and outrageous.
"It just blatantly says we don't care about patients. We don't care about safety, we just want to get out and start making money."
Ethicon said that it empathised with those women who had suffered complications but said the company had always had the best interests of patients at heart.
The firm said that all pelvic floor surgery came with a risk and that millions of women had benefited from having treatment for incontinence and prolapse.
Millions of women around the world have had transvaginal mesh implants.
For the vast majority, the surgery has been a success but thousands of women have suffered devastating consequences as a result of mesh surgery.
In some cases the damage is irreversible.
More than 100,000 women around the world are now suing the manufacturers, including Ethicon.
That includes more than 1,000 women in the UK - many of whom are also taking legal action against the NHS who they will claim failed to inform them of the potential risks.
Figures compiled for Panorama show that more than 6,000 women in the UK have had mesh surgery removals in the past decade.
BBC Panorama's The operation that ruined my life can be seen on the BBC iplayer.