Orphanage boy, 6, 'died from E. coli infection caused by rat'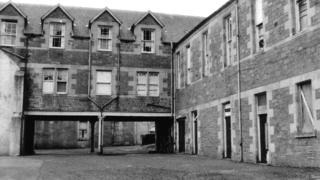 A six-year-old boy who died in a Lanarkshire care home did not die as a result of an assault by a nun, an inquiry has heard.
Instead, the child's cause of death in 1964 was an E. coli infection, probably caused by playing with a rat.
A forensic pathologist has been giving evidence to the Scottish Child Abuse Inquiry about Samuel Carr who lived at Smyllum Park orphanage in Lanark.
The inquiry previously heard the boy was beaten by staff and nuns.
But the session, chaired by Lady Smith in Edinburgh, heard Samuel died of a brain haemorrhage following an E. coli infection.
The boy, known as Sammy, had been suffering some form of malnourishment which would have made him more vulnerable to infections.
Forensic pathologist Prof Anthony Busuttil said in a report: "I have no doubt at all that the brain haemorrhage...was not traumatic in origin."
The inquiry has been hearing evidence over several days about institutions run by the Daughters of Charity of St Vincent de Paul, particularly Smyllum Park.
It has previously heard claims that Sammy died days after being beaten by a nun at the institution, which closed in 1981.
Prof Busuttil, from the University of Edinburgh, prepared a report for the inquiry after studying other post-mortem examination findings about Sammy, who died in hospital in June 1964.
Reading from his conclusions, he told the inquiry: "Based on the complete medical evidence it appears that trauma following on an allegation of assault did not have a direct or indirect part to play in the death of this child."
He said the findings showed the boy's brain was swollen, caused by bleeding over several days, and he agreed with past findings that the cause of death was a cerebral haemorrhage.
'Some degree of malnourishment'
The expert witness also told how previously inexplicable abnormalities in the boy's kidneys could now be explained by the presence of E.coli infection.
Kidney failure can cause the brain to develop haemorrhages, the inquiry heard.
The hearing was told that Sammy died after suffering convulsions and a loss of consciousness.
Prof Busuttil said: "(There is) evidence to suggest that he may have been involved in touching or poking a dead rat some time before he took ill.
"This could have been the source of infection with an E. coli organism, which in turn would have resulted in severe kidney failure."
Such "catastrophic" kidney failure would have decreased his general immunity, making him more prone to secondary yeast and fungal infections, the inquiry heard.
Prof Busuttil also told the hearing in Edinburgh that Sammy had a fairly low weight for a child of his age.
"Given his low body weight, it's a viable possibility that he may have been suffering from some degree of malnourishment," he told the hearing.
"This would have predisposed him non-specifically to infection and also decreased his general resistance to infection, once any infection had become established in him."
The public hearing has now adjourned its second phase and is due to begin again on 9 January.