Holyrood's choice: tax, growth or both?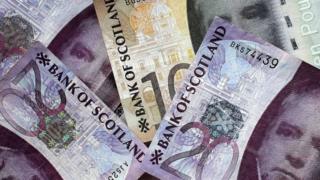 Twenty budgets in, and the Scottish government faces bigger choices than ever before - on taxation as well as spending.
The balance between those two is how much of Westminster's squeeze to pass on to public services, and how much to mitigate with higher tax take.
The spending squeeze looks like at least £200m in real terms.
The IPPR Scotland think tank reckons that it would take a 2p rise in the basic rate of income tax, to 22p in the pound, to mitigate the impact over two years.
It points out that is only a temporary solution. Longer-term, the problem has to be addressed by increasing the economic growth rate.
So this budget is also about a balance between meeting demands for public service spending - fuelled by years of expectation and rhetoric behind the campaign for more taxation powers - and improving the rate of growth.
If growth isn't improved to at least the UK rate, which isn't all that hot, then the effect of those new income tax powers will be to leave Holyrood with a lower budget for spending than it would have had without devolved income tax powers.
The longer that growth gap persists, the more the revenue gap grows.
The fiscal framework agreed between Holyrood and Westminster protects Holyrood from the effect of differential population growth (much higher in England in recent years) but not from different rates of growth in economic output.
Think Scandinavia
So, the obvious answer is: raise taxes AND raise the growth rate. That's been the economic policy of the Scottish government, and looks likely to remain so.
Ministers can point to other countries with high rates of personal tax and strong economies. Usually, that means pointing in a Scandinavian direction.
And very nice it looks too, even in the depths of winter. But how likely is that to be achieved?
It's possible. It requires choosing to spend tax money on items that raise the growth rate. That would include education, infrastructure and support for innovative business including research and development.
And money that's spent on those cannot also be spent on welfare, social work, free services for older people and other less economically productive but socially valuable projects.
As Graeme Roy at the Fraser of Allander Institute points out, it's hard to quantify the impact of these. None of the levers have an instant impact on growth.
The most effective spend in education has long been thought to be for those aged under five. The benefits of that would obviously take many years to feed through to economic growth.
And not all spending on these items will have the same, positive impact. High-end R&D support may help some, but it doesn't always link to the mainstream of the economy.
A new railway line or ferry pier can have more social and inclusion benefits than economic.
Digging deeper
On the other side of the reckoning about tax rises, they can be sure to pull spending power out of the households required to pay those bills. In total, that means less demand in the economy.
It can act as a signal to the outside world that Scotland is a high-tax destination for internationally-mobile investors and big earners, and that signal can be amplified by the political messaging around the tax debate.
The more Conservatives voice the mantra "highest taxed part of the UK", the more potential US and Asian investors are likely to hear it.
Businesses and public employers, including the NHS, may also have to dig deeper into their payroll budgets to compensate the most valuable workers for their higher tax bill.
Otherwise, the appeal of leaving Scotland becomes stronger, or of not coming to Scotland in the first place.
And here's the other key point: taxes provide a lever with which to influence levels of demand for goods and services in the economy. In an over-heating economy, raised taxes can help calm things down.
In a weak economy, verging on the edge of recession for most of the past three years, raising taxes can tip it over that edge.
Far from over-heating, the Scottish economy is feeling the chill. Since my previous blog, the Fraser of Allander forecast for 2018 has been downgraded to 1.2% growth.
It has important underlying strengths, but overall, and at present, it doesn't seem to have much resilience.
Rates and bands
Those are some of the dilemmas facing Derek Mackay as he prepares to deliver his draft budget, mindful that he has yet to do a budget deal with at least one opposition party.
As if you needed reminding, his options do not include the raising of the zero-tax personal allowance. Westminster has decreed that will rise next April from £11,500 to £11,850.
Almost every other income tax lever has been re-located to Holyrood.
He can increase rates on basic, higher and additional rate bands. He can change the thresholds at which those higher and additional bands begin to be paid. And he can create new bands - for instance, a 30% charge for those on £30,000 and above.
Significantly, Mr Mackay does not have control over the taxation of dividends and savings.
If, like most people, you don't think they pay much of a role in broader income, a splendid briefing paper from the Scottish Parliament Information Service shows nearly 12% of income for those earning more than £43,000 is earned from dividends, and tax on that is paid to Westminster.
For those on more than £150,000, that rises to nearly 15%. While savings rates remain on the floor, much less is earned from money in savings accounts.
Those people may look like cash cows, but they're already providing quite a lot. Those earning more than £100,000 account for only 2% of taxpayers, while they pay 28% of Scotland's income tax.
A timely warning was published on Tuesday by the Scottish government, making public the advice of chief economic adviser Gary Gillespie.
He repeated a warning that those on the 45% additional rate of tax, earning more than £150,000, could react to a hike of five points in that tax rate by shifting their money elsewhere.
That much has been argued for some time by the SNP in countering Labour demands that the top rate tax should be raised by that amount.
Perhaps significantly, Mr Gillespie went on to say that a lesser rise in the rate can be expected to have much less of a "behavioural effect" from high earners. It may look obvious, but it also looks like an argument which would be helpful in getting to a budget deal with Scottish Green MSPs.
Sampled
Their votes matter, a lot. But eventually, so will the votes of the people whose bills could be affected by a tax increase. What do they think?
A recent poll (subject to the usual health warnings) by YouGov indicated support for raising the additional rate of tax from 45% to 50%, and by a margin of 68% to 19%.
The same survey, for The Times, asked if Scotland should have different tax rates to England and Wales. Some 48% supported that, with 36% against.
In October, YouGov asked if Scots supported a rise in the basic rate of tax for those earning more than £11,500. The answer was 49% against to 35% for. This suggested a majority in favour of raising the higher rate, for those on more than £43,000 - by 57% to 29%.
I did my own public opinion survey on Tuesday, braving the cold on Glasgow's Buchanan Street.
My unscientific sampling suggested most (of those willing to talk with Mr Andrew Evans' large TV camera trained on them) are willing to pay more, but not unconditionally. It has to go into improving public services.
Some volunteered their support for such taxes to protect higher levels of provision in Scotland, for free tuition fees and better care support.
And those who don't want to pay more tax? Well, they don't feel the need to explain.