Actor William Shatner and footballer Adam Rooney trade bauble barbs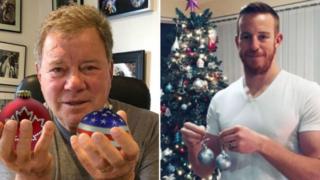 Star Trek legend William Shatner and Aberdeen striker Adam Rooney have traded insults over the size of their baubles - as part of a campaign to raise awareness of testicular cancer.
The American actor and Irish footballer both back the charity Cahonas Scotland.
Their exchanges began after Mr Shatner tweeted a picture of his decorations with the hashtag #CheckYerBawballs.
After Rooney shared his smaller versions, things descended into playground-style comparisons.
Cahonas Scotland's Christmas campaign encourages men to share pictures of themselves "checking" their Christmas baubles throughout the month of December, using the hashtag #CheckYerBawballs and nominating others to do the same.
Mr Shatner, who has joined in with the campaign in previous years, shared a picture which showed him holding one stars and stripes bauble and another carrying a Canadian maple leaf.
Shortly afterwards, Rooney posted his version - with visibly smaller silver baubles.
These caught the Star Trek actor's attention, and he came back with the reply: "Would it be 'naff to tell @17AdamRooney that my bawbells are bigger than his? #sizematters"
Things quickly escalated and the exchanges which followed included pictures of the two campaigners comparing old photographs of Mr Shatner in various tight outfits, microscope emojis, and a lot of sharing of the charity's hashtag.
Mr Shatner even asked Mr Rooney's club to go easy on him, posting: ""Dearest @AberdeenFC now don't go too hard on the little guy now!"
Cahonas Scotland said it was was delighted with the coverage.
A spokesman said: "Bill and Adam have both been big supporters of the cause for the last couple of years both through helping raise awareness of the cause but also supporting our fundraising campaigns.
"Whilst they had a little fun with each other yesterday they both appreciate that their banter has got people talking about the subject which is ultimately the aim of the #CheckYerBawballs campaign.
"Our aim is to educate men about the need to check themselves for signs and symptoms of testicular cancer, a subject treated with a degree of awkwardness.
"Through our annual #CheckYerBawballs challenge campaign and thanks to the involvement of Bill, Adam and host of other celebrities we hope to give the gift of a message that may save lives this Christmas."