'I'm a father and I viewed child abuse images'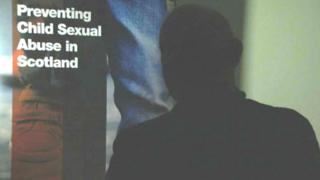 John, from Central Scotland, was convicted of viewing and copying indecent images of children and received an 18-month suspended prison sentence.
John, who is married with two grown-up children, agreed to talk to BBC Scotland's Timeline programme about why he viewed the images, on condition that his anonymity was maintained.
He says he started looking at legal pornography to help manage stress brought on by his wife's health.
This led to him clicking on links showing indecent images of children, he says.
John, who had a professional career before he retired, has attended a course run by Stop it Now, a charity that provides advice and information for those concerned about their online behaviour.
The charity said it had received 953 visits from people in Scotland in the three months after 25 June when it launched an awareness campaign, compared with 556 in the three months before - an increase of 71%.
John's story
"I knew when I was viewing the material that I was doing something wrong.
"I wasn't comfortable with it. I tried to stop it a number of times and found myself drifting back into it again.
"It was a progressive slide, I suppose, from looking at legal pornography online for quite some time and eventually I discovered the illegal material by accident. I didn't go looking for it.
"My downfall is I didn't stop myself going back and looking at it again. I found myself on a merry-go-round. I stopped and then went back to it.
Police at the door
"My family had no idea about what was going on.
"The police called at my house at 7.30 one morning.
"When the police are standing at the doorstep you immediately think of some dire and dreadful thing that has happened, perhaps to other members of your family, and it became apparent very quickly - I knew very quickly why they were there.
A lot of shame
"I'm a husband, I'm a father, I've been a role model and I've very, very badly let them down through engaging in this activity, so there's a lot of shame, a lot of embarrassment and a lot of puzzlement that I'm still trying to work my way through.
"I was taken to a police station over a weekend and immediately on my release I had been given a leaflet headed 'Stop it Now' from the police.
"After getting home and talking to my wife, I immediately phoned "Stop it Now" and made contact with them.
"They ran a 10-week course which I joined to give me insight into what I had been doing and also to the damage that I had caused to the victims of the images that I had been looking at.
Enormous damage
"In reality, there's an individual behind that image that has been abused and by looking at them you are perpetuating that abuse and almost contributing to it."
"I know my own mind. I've made a mistake. I've paid the penalty. I've suffered enormously. I've caused enormous damage - not least to the subjects of the images that I've looked at but also my wife and my family.
"I fully acknowledge that I've done something wrong. I know that this will never happen again for me.
"I appreciate that other people may have said that in the past but my case, with my determination to stop, cemented by the support of Stop It Now, I'm very confident that it will never happen again."
Details of organisations offering information and support with child sexual abuse are available at bbc.co.uk/actionline, or you can call for free, at any time to hear recorded information on 0800 077 077.