Scotland's papers: SNP's tax shake-up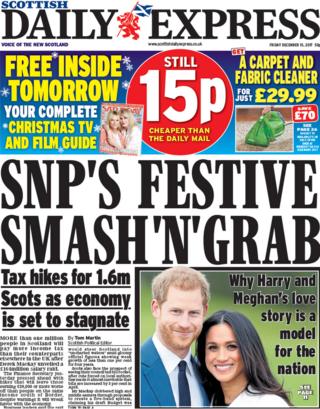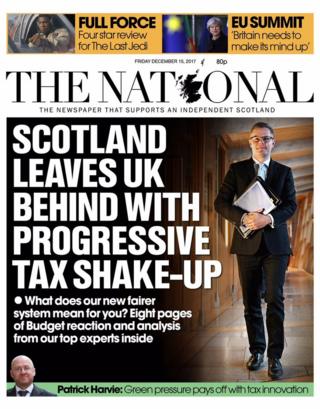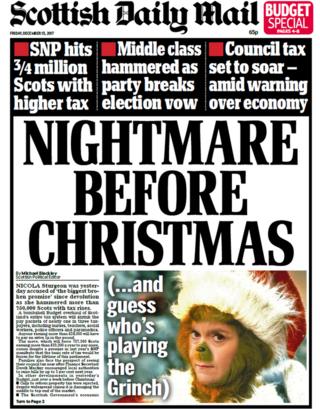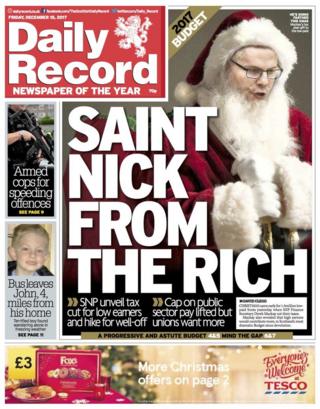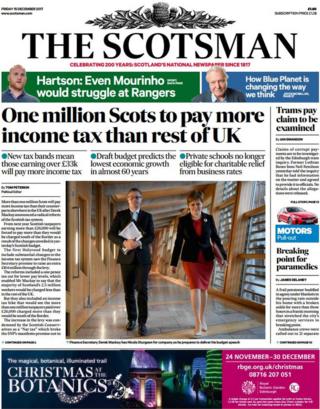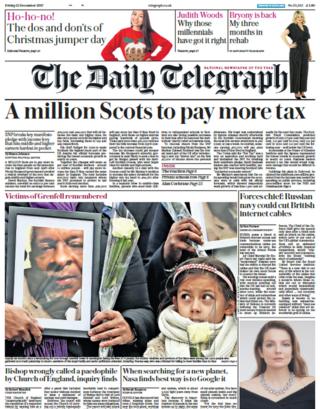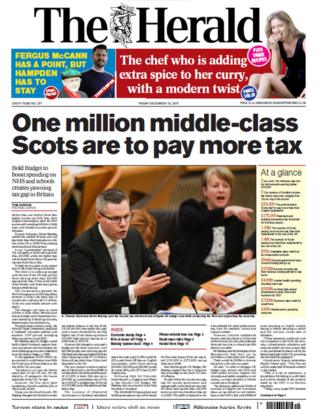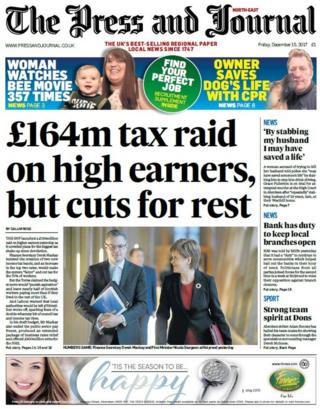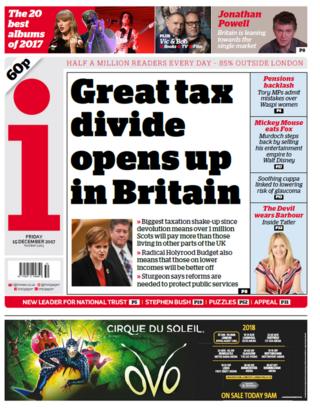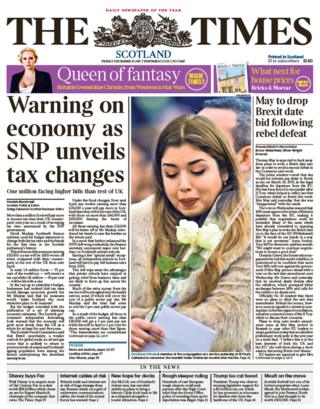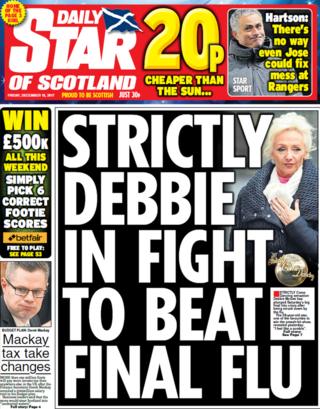 Tax is the main theme of Scotland's front pages, after wide-ranging changes were announced in the Scottish government's draft budget on Thursday.
It means more than a million people living north of the border will pay more income tax than their contemporaries in the rest of the UK, according to the Scottish Daily Express, which describes the move as a "festive smash 'n' grab".
However The National says Finance Secretary Derek Mackay's plans for a five band system of taxation are "progressive" and will ensure that Scotland is the "fairest taxed part of the UK".
The Scottish Daily Mail carries a mocked-up image of Nicola Sturgeon as The Grinch, and reports that more than 750,000 people earning in excess £33,000 will have to pay more tax.
Alongside a picture of Mr Mackay dressed as Santa Claus, the Daily Record reports that "Christmas came early" for about 1.4m low-paid Scots who will pay less tax as a result of the budget.
The "radical reform" of Scotland's tax system means than anyone earning more than £26,000 will pay more in tax than they would be charged south of the border, according to The Scotsman.
Mr Mackay has targeted middle and higher earners in his budget which ensures that Scotland is the highest taxed part of the UK, the Scottish edition of the Daily Telegraph reports.
The Herald says the changes will raise an extra £164m to help offset Westminster cuts and make up for lower revenues caused by a faltering economy.
Mr Mackay said the shake-up would make the tax system "fairer", according to the Press and Journal, but the Scottish Conservatives warned the move would "punish aspiration".
The i newspaper highlights what it describes as a "great tax divide" between Scotland and the rest of the UK on its front page. Inside, it said it was the "biggest shake-up" of the taxation system since devolution.
Meanwhile the Scotland edition of The Times reports that the budget coincided with a warning from the Scottish Fiscal Commission that the Scottish economy would grow more slowly than the rest of the UK for the next five years.
The Courier leads with a story about a man who stabbed his partner after she tried to end their seven year relationship.
Strictly Come Dancing's Debbie McGee is on the front page of the Daily Star of Scotland, which reports that she has been struck down by flu ahead of Saturday's final.