Gaelic speakers claim Visit Scotland has misinterpreted Còsagach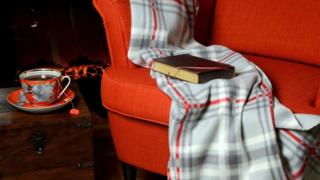 A row has broken out over the real meaning of a Gaelic word adopted by Scotland's national tourism agency.
VisitScotland is promoting "Còsagach" to rival the Danish concept of Hygge.
The country's tourism body says it is an old Scottish word for feeling snug, sheltered and warm and they identified it as a "top trend" for 2018.
However leading Gaelic speakers claim the word has been misinterpreted and they have accused VisitScotland of insensitivity.
Mark Wringe, a senior lecturer at Sabhal Mòr Ostaig on Skye, told the BBC Scotland website that Còsagach means a small hole where insects live.
He said the tourist agency's use of the word was "insensitive and upsetting".
And in an article for Bella Caledonia, Gaelic writer Calum Macleod accuses the government-funded body of lacking respect for the language.
In response, VisitScotland vigorously defended itself, insisting the meaning of Còsagach has evolved.
Mr Wringe, programme leader for the Gaelic language and culture degree, believes the tourist body found an "obscure, archaic" meaning of the word in an old dictionary.
He said that when he asked his Gaelic-speaking friends about Còsagach, none of them recognised VistScotland's interpretation.
"To most of us it would be a wee hidey hole or nook that a creepy crawly might live in," he said.
'Feeling of warmth'
It could also mean a "snug wee spot" that a child might make for themselves, on the sofa for example, he added.
He accused the tourism agency of failing to consult Gaelic speakers on their choice of language - a charge rejected by VisitScotland.
"It's not hard to find reliable Gaelic speakers in Scotland," he said. "Don't pretend to know something. It's not your toy to play with.
"It's a living, vibrant language spoken by lots of people in Scotland."
He added: "They've got lots of publicity which is one positive but they've made the classic mistake of thinking that no one speaks the Gaelic language, so they can play with it and make it what they want.
"It's insensitive and upsetting. It's got people's backs up."
The Gaelic word "seasgair" would have been more appropriate for the campaign, he added.
Chris Greenwood, senior tourism insight manager at VisitScotland, said Còsagach originally meant "full of holes or crevices" but had evolved to mean "snug, sheltered or cosy".
He added: "Scotland evokes that feeling of warmth - from the landscapes to the people - particularly during the winter months, when visitors can 'coorie-in' at the many snug and cosy places across the country.
"In researching our Trends 2018 paper, we weren't looking for a direct translation of 'cosy' but a word that encompassed the essence of that feeling which would connect with consumers, whilst recognising the Gaelic language which is an integral part of Scotland's culture."