BMX star's rough ride from abused child to Hollywood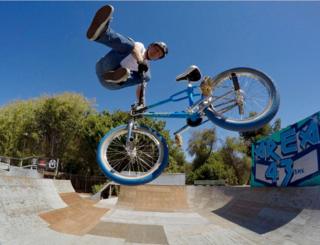 BMX star John Buultjens was taken into care when he was just seven after attacking his abusive father with a kitchen knife to protect his mother. Now he is playing his own violent dad in a new movie.
John, who is now 45, says he took on playing his father in the new movie Ride because he thought he could be more truthful than other actors.
"Then I realised you have to become that vicious, evil person," he says.
"It was one of the most difficult days of my life playing that guy but it was also the most rewarding because I know I'm nothing like that."
John, who grew up in the Drumchapel area of Glasgow, says his earliest memory of his father is being thrown into an electric fire at the age of three.
"It didn't have the guard on it and my foot got stuck in between the two bars," he says.
"I still remember the smell of burning flesh and the sock melting into my foot."
John says that much of the violence and abuse he suffered in those early years has begun to feel like it happened to someone else in a book or a film.
"But I have the scars to prove it," he says.
Taken into care
It was just before Christmas 1979 that his life changed forever.
Seven-year-old John tried to stop his father beating up his mum.
"I actually ran into the bedroom with a kitchen knife to stop him but he knocked me out before I could attack him," he says.
John was taken into care and it was years later before he found out that it was his mother who had alerted the police and social services to what was going on.
"I could have killed my father," John says.
"I know I would not have survived if I had stayed living like that. I was angry little kid. We didn't have anything so I had nothing to lose."
John's foster parents were Marianna and Eldridge Buultjens, who lived in the Kelvinside area of Glasgow.
"My foster father was from Sri Lanka and my mum was from Paisley," he says.
To his shame now, John says initially he could not deal with having a father who was brown-skinned.
He says: "I have got this vivid memory of walking down Great Western Road and I would walk behind my dad because I was embarrassed.
"I hate saying that because it's not me. It baffles me that was the way I was. I was trained to be like that.
"But seeing how a human being who was not my blood relative could love me the way he does, that was the turning point. It took me about six months."
'ET changed my life'
Despite the difficulties, John was adopted by Marianna and Eldridge and he says they have been the most loving and caring people any child could ask for.
"My mum and dad have been so supportive all the way through my life," he says.
"I wasn't good at school. I remember one school teacher telling me I'd amount to nothing but my mum and dad taught me you could be anything you want to be."
The young John's life changed after a trip to the cinema in Glasgow to see Steven Spielberg's E.T. the Extra-Terrestrial when he was 10 years old.
It was the first time he had seen a BMX bike.
"That definitely changed my life," he says.
"It was a way of flying and it was a way to get out."
John's new family moved to Dundee in 1986 and he got even more involved in BMX.
His obsession with performing tricks on his sports bike led to acclaim and he has competed all over the world but in those days there was no money in it, he says.
"I just had the passion and the love and the determination," John says.
"It was an escape. It was freedom straight away.
"I'm almost 46 and I'm still riding a kid's bike."
John moved to Australia in his early 20s and worked in various jobs, including acting roles in TV soap Neighbours.
He continued his interested in BMX and a s well as riding he began collecting and re-creating classic bikes, of which Haro was seen as the pinnacle.
John says: "The number one stunt man in the film ET was Bob Haro.
"I didn't know that at the time, I was a just kid, but now I am the global brand manager for his company."
John moved to the USA five years ago and through various contacts in the film world his life story became known to people in Hollywood.
The film version of John's life is set in California not Scotland.
It stars Ludacris, the rapper and actor who is best known for his role in the Fast and Furious franchise, as John's adoptive father.
John plays his own biological father, who died in 1997.
He says he did not return from Australia for his father's funeral and did not reconcile with him in the way he did with his birth mother.
Twenty-three years after she gave him up to care, John sought out his mother, Margaret Craig, to tell her he understood why she let him go.
He says: "I came back to Glasgow and had good time with her and let her know I'd had an amazing life."