Female nurse jailed for fake male doctor scam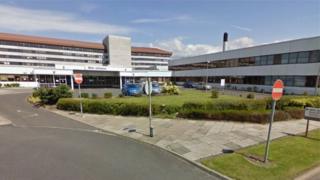 A female nurse who pretended to be male doctors online to lure women into romantic relationships has been jailed for nearly two years.
Adele Rennie, 27, targeted women through dating sites and social media.
She lured some into sending intimate pictures which she used to threaten them if they cut contact.
Sheriff Elizabeth McFarlane also placed Rennie, of Kilmarnock, East Ayrshire, on the sex offenders register.
She said the nurse had planned the operation with "astonishing precision and in a cold and calculated manner".
Sheriff McFarlane said: "This resulted in humiliation and harm to a number of women who did not deserve this in any shape or form."
Voice-altering app
Rennie admitted 18 charges, involving 10 victims, of stalking causing fear and alarm, having sexual conversations without consent, NHS computer misuse, attempting to pervert the course of justice and breaching bail between 2012 and 2016.
Prosecutors at Kilmarnock Sheriff Court accepted not guilty pleas to further charges involving more women dating back to 2010.
Rennie sent many of her victims nude pictures of a man and asked to be sent pictures of a sexual nature.
In some cases she turned up at her victims' homes.
The university graduate staff nurse, who worked at Crosshouse Hospital in Kilmarnock, used a voice-altering app on her mobile to dupe victims in phone calls.
As well as the alias Dr David Graham, she pretended to be his fellow medics "Matthew Mancini" and "David Crolla".
Abusive behaviour
Paul Gallagher, defending, said Rennie accepted full responsibility for the "bizarre" offences and added: "She is extremely sorry for the harm and humiliation she caused these women.
"She, through her own actions, has lost her career, her liberty and a number of positive aspects in her own life."
Sheriff McFarlane told Rennie: "When I saw you on November 20, I said that it was possibly one of the most bizarre narrations I had heard in my entire career.
"I had hoped the report I have before me would shed some light on your incredibly abusive behaviour but unfortunately it hasn't.
"I have no idea why somebody from a good family, well educated with a good job, throws it all away. Inexplicable."