Met office issues warning for Christmas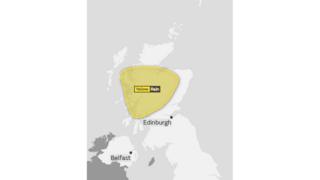 The Met Office has issued a yellow warning for rain in Scotland on Christmas Day.
A warning has also been issued for Christmas Eve, although a smaller area will be affected.
A much larger part of the country is predicted to be hit with heavy rain on 25 December.
The west highlands and particularly coastal areas will be the worst affected.
The Met Office is warning of possible road closures and travel disruptions, as well as a small chance of flooding or power cuts.