New fund to help parents of premature babies in hospital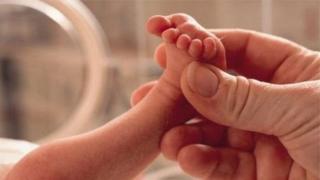 Parents of premature babies who are being cared for in hospital are to be given extra financial support.
The Scottish government is introducing a new £1.5m family fund to help with additional costs such as travel to the hospital and food and drink.
About 4,400 babies are born prematurely every year in Scotland and the extra cost to parents is over £200 a week.
Health Secretary Shona Robison confirmed the money would be available from 1 April next year.
Desperate situation
She said: "It will be done very easily and very smoothly through the neonatal units that the parents are attending.
"We want to make it as simple and as straightforward as possible so that parents are not out of pocket for the daily essentials of getting to and from the hospital where their baby is, and also for things like food and drink.
"So this will make a big difference in helping parents at one of the most vulnerable times of their lives."
Labour Central Scotland MSP Mark Griffin's baby daughter Rosa was born 12 weeks early in April.
He has become a campaigner for the charity Bliss on behalf of parents facing the often huge costs associated with a premature baby in hospital.
He told BBC Radio's Good Morning Scotland programme that he witnessed parents in distress because they were unable to visit their children in hospital each day because of the cost.
'Bank balance'
He said: "When we were in hospital there were so many families there who were in a real desperate situation - some people in tears, that when they were going home they knew they weren't coming to see their baby the next day because they couldn't afford to pay for a taxi."
He added: "It was getting to the end of every month and you were looking at the bank balance and saying where is all this going?
"You were paying for travel costs, you were paying for the expensive food every day in hospital.
"Some people were paying for childcare, some people were paying for accommodation. It was racking up. It was easily over £100 a week just for us - probably close to £200 a week - and we were there for five months."
The Central Scotland list MSP said the fund was being opened from 1 April, the same day as his daughter's first birthday.