Seven Police Scotland officers 'should face misconduct probe'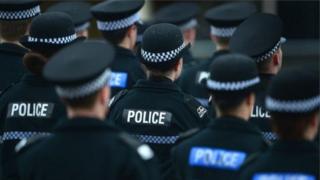 Seven officers from Police Scotland should be investigated for misconduct, an investigation has concluded.
A report by Durham Constabulary also recommends an eighth officer should be considered for misconduct proceedings.
The report was carried out after concern about Police Scotland's now-disbanded Counter Corruption Unit.
Officers were accused of accessing private communications in an attempt to discover if information about a murder investigation had been leaked.
Two of the officers have now retired.
The Durham report also says those affected by the illegal monitoring of police information should be compensated.
The Interception of Communications Commissioner ruled in November 2015 that officers had broken new spying regulations by obtaining communications data without permission on five occasions.
Officers had been attempting to find out how information about the investigation into the murder of Emma Caldwell in 2005 had appeared in the media. Sir Stanley Burton said the "failures" by police "could properly be seen as reckless".
MSPs subsequently convened their own inquiry into the matter.
Commenting on the Durham report, Mary Fee MSP, convener of the Scottish Parliament's justice sub-committee on policing, said: "This latest information to come to light in the long-running saga of Police Scotland's Counter Corruption Unit needs to be digested and then scrutinised by MSPs.
"As we head towards the new year, I think one safe prediction for 2018 is that more senior police officers will be appearing before committees of the Scottish Parliament to explain themselves."