Scotland's festive freeze looks set to continue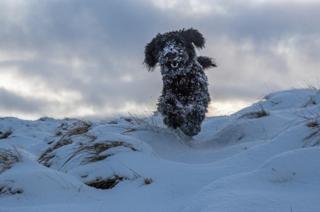 People in Scotland are being warned to expect more wintry weather as the festive chill looks set last for the rest of the week.
Forecasters say rain, sleet and snow is expected on Wednesday night and Thursday morning, and they have issued a yellow warning of ice.
The Met Office said inland areas were likely to be worst affected by snow and ice, particularly the north Highlands.
Snow is likely to hit southern Scotland and northern England on Friday.
A Met Office yellow warning for snow comes into force at 03:00 on Friday, with forecasters warning it could affect roads and railways.
Meanwhile, BBC Scotland website readers have been sending us their pictures of the snow in Scotland.
Send your photos to scotlandpictures@bbc.co.uk or via Instagram at #bbcscotlandpics.