Scotland's economic forecasting chief made a dame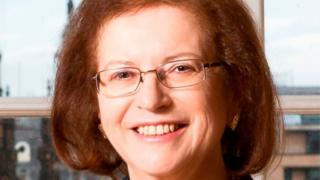 The woman who heads up Scotland's independent economic forecasting body has been made a Dame in the New Year Honours list.
Susan Rice said the reward for her work in business, culture and the arts was a source of "great pride".
She is the chairwoman of both the Scottish Fiscal Commission and Scottish Water.
Dame Susan was born in the US and has degrees from Wellesley College and Aberdeen University.
She also has honorary doctorates from eight Scottish universities.
The mother-of-three is married to historian Professor Sir Duncan Rice who is vice chancellor emeritus of Aberdeen University.
Clearing bank first
In response to the honour, Dame Susan said: "I hope my career illustrates the holistic relationship between business, our culture and the arts.
"To be appointed a DBE by Her Majesty is a source of great pride for me and my family.
"I trust it also salutes the many people I've worked with who also value the inherent link between business and society."
Dame Susan was the first woman to head a UK clearing bank when she was appointed chief executive and then chair of Lloyds TSB Scotland in 2000.
She is on the board of directors of a number of bodies including;
Sainsbury's
the North American Income Trust
the Banking Standards Board
and Big Society Capital
Dame Susan has previously served on the boards of SSE and the Bank of England.
In academia and the arts, she is a lay member of Edinburgh University's Court and chairs the patrons' governors of the National Galleries of Scotland and the City of Edinburgh's culture task group.
Her other roles include chairing the Edinburgh International Book Festival and the Festivals Forum.
She also heads up Scotland's 2020 Climate Group, which seeks to encourage businesses to pursue sustainable economic growth.