Further 31,000 Scots join organ donor register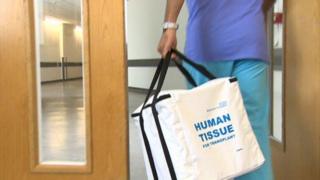 Nearly 31,000 people joined the NHS organ donor register in Scotland in 2017, according to the latest figures.
The total compares with 28,393 joining the register in 2016 and means that more than 2.4 million people or 45% of Scots intend to become organ donors.
The Scottish government has already outlined plans for a so-called opt-out system of donation, where people's organs become available on their death.
That system is operating in Wales, with England also expected to follow suit.
At present, anyone who wants to donate their organs after death in Scotland has to "opt in" to the system through the donor card scheme.
Express wishes
Ministers will introduce legislation for a "soft" opt-out system of organ and tissue donation in the coming parliamentary year.
That means that in addition to "opting in" donations could also proceed where a person had not opted-out.
However, Scotland's Public Health Minister Aileen Campbell said there would be safeguards to minimise the risk of a person becoming a donor against their express wishes.
She added: "It is sensitive.
"There are a lot of issues that we need to make sure are absolutely correct to make sure that people have the confidence in the system, the confidence in the NHS to make sure that the legislation delivers what we want to see, which is increased donors, but also those receiving an organ to have the benefit of that precious life gift."
According to the latest figures for 2016-17, 133 people who died in Scottish hospitals became organ donors, up from 99 the previous year.
That meant that 348 people who were waiting for a transplant were able to have the surgery they needed.