Scotland's first 2018 babies are born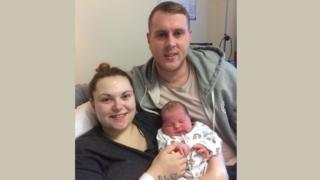 The first babies of 2018 have been born in Scotland.
The first is believed to have been Harry Jacob Ferguson, who arrived at 10 seconds past midnight at Dr Gray's Hospital in Elgin.
Bonnie Mary Lindsay Petrucci was born at 00:05 at the Princess Royal Maternity Hospital in Glasgow.
Ten minutes later, a still-to-be-named girl was born to Susanne Dwyer and Richard Mills at St John's Hospital in Livingston.
At Forth Valley Royal Hospital, Oliver was born to Erin Miller and Matthew Briggs at 00:30.
Katie Browne and Lynfryn MacKenzie welcomed baby Josefin MacKenzie Browne into the world at the Queen Elizabeth University Hospital in Glasgow at 00:32.
In Edinburgh Royal Infirmary, Stacey Glancy and Colin Graham had a boy, Travis, at 01:30.
In Dundee, the labour ward at Ninewells Hospital had five new arrivals in the early hours.
The first was a boy, named Nico Watson, who arrived at 01:50.