'Unanswered questions' over post-Brexit farming funds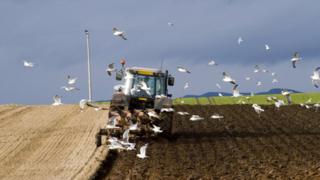 The Scottish government has welcomed plans for post-Brexit farming funds, but says there are still too many unanswered questions for Scotland.
UK farmers will continue to receive the current level of EU subsidies until 2024, Michael Gove has announced.
The new system will reward farmers for taking steps to help the environment, such as planting woodland.
Current payments are based on the amount of land owned and amount to £3bn a year.
Rural Economy Secretary Fergus Ewing highlighted the need to maintain support for hill farmers in Scotland under the Less Favoured Area Support Scheme (LFASS). He said that if this was unable to continue, "the impacts on rural Scotland would be devastating".
He added: "While this guarantee [from Michael Gove] provides a degree of certainty and clarity, it does not cover a whole variety of vital support schemes such as for our hill farmers, sheep and beef support, new entrants, forestry and environmental support programmes, which are crucial to ensure the continued economic wellbeing of all of Scotland's rural communities."
Mr Ewing welcomed the guarantees for the next five years, but said the plans left "far too many questions unanswered for any comfort to be taken."
'Do what we do better'
Alan Bowie, a farmer from Fife and former president of the National Farmers Union Scotland, told BBC Radio's Good Morning Scotland programme that the whole supply chain had to buy into Mr Gove's proposals for them to work.
He said there was a limit to what the land could produce without damaging the environment.
"So this idea that we can just turn the tap on and produce more from the ground, from a Scottish perspective, I don't think that can happen," he said. "What we can do is get a better premium for what we produce and I think the whisky industry value that and so do the beef industry and the lamb.
"So the important thing here is to try and do what we do better, but also minimise the impact to the environment, to the water quality. And again from a farmer's perspective I can buy into that. I need the public and others to buy into that so we are profitable going forward."