Health expert warns of flu impact on operations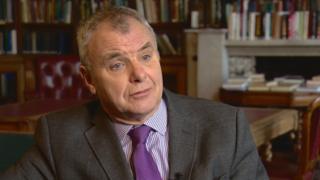 One of Scotland's leading medical figures has warned hospitals could be forced to postpone more operations if the number of flu cases does not ease.
Prof Derek Bell said the rapid rise in flu cases and a spell of severe weather had led to the biggest pressures on emergency care in a decade.
He said the longer the situation went on the harder it would be to recover.
Latest figures show flu cases have doubled in a week and are now four times the rate of this time last year.
And BBC Scotland has learned that at least 341 planned procedures in hospital have had to be postponed by health boards across Scotland in the last week alone.
Breakdown of postponements:
NHS Dumfries and Galloway - 4
NHS Forth Valley - 5
NHS Lanarkshire - 12
NHS Fife - 41
NHS Lothian - 130
NHS Greater Glasgow and Clyde - 149
In August last year, Health Secretary Shona Robison announced a new initiative aimed at cutting NHS waiting times after statistics showed an increase in the number of people waiting too long for treatment.
Treatment target
At the time, the data showed that the 18-week referral to treatment target was met for 84.8% of patients.
This reduced to 81% in the latest figures which run to the end of September, well below the Scottish government's own 90% target - which has not been met since June 2014.
Prof Bell, chairman of the Academy of Scottish Royal Colleges and Specialist Societies, was chosen to lead the government's new Elective Access Collaborative Programme.
He had previously led the National Unscheduled Care Improvement Team - which the Scottish government said had brought Scotland's A&E waiting times up to the best in the UK.
Cancelled operations
The professor told BBC Scotland the recent spell of "high activity" in accident and emergency departments could have an impact on efforts to reduce waiting times for other operations.
He said: "In terms of this winter, it has been one of the poorest for some time, maybe a decade.
"The issue we then have in relation to the impact of emergency care on planned care is how quickly we recover from the winter.
"The longer the flu season goes on, the longer poor weather conditions persist, the greater the impact of that will be."
Prof Bell said he had not seen figures for cancelled operations and the full impact would not be known until figures were released at the end of January.
He said: "In England there is a very different edict about cancelling everything so emergency care can carry on, so at least in Scotland at the moment we are trying to do both at once."
Prof Bell's expert group on waiting times was tasked with bringing improvements by spring this year.
He said he was focusing on how to "maximise" improvement rather than concentrating on strict timescales.
"What we want to do is reverse the trend because we do want patients to have timely procedures, timely operations, so this is about how we can begin to make progress towards improvement," he said.
"Timescales for that this year maybe longer because of the winter we have just had."