Solicitor 'revolt' at legal advice change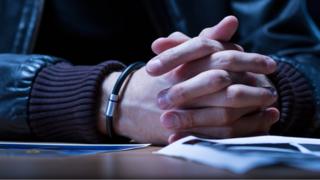 New rules that entitle anyone in police custody to legal advice will be unworkable, solicitors have warned.
Currently in Scotland, only those being interviewed by police have the right to speak with a solicitor.
From 25 January that will change to include everyone in custody, sparking fears about solicitors' workload.
The Scottish Legal Aid Board said contingency plans were being put in place to deal with a mass boycott by solicitors in response to the change.
The revised police station duty scheme was triggered by a 2010 UK Supreme Court Ruling, which found it was a breach of an accused's human rights not to have access to a solicitor during a police interview.
'Impending crisis'
However, solicitors warn that the change - contained in the Criminal Justice (Scotland) Act 2016 - means they will be expected to provide round-the-clock access while also maintaining daily court duties and levels of service.
Scotland operates a system of private solicitors and those undertaking legal aid work.
Private solicitors in Edinburgh and Falkirk unanimously voted not to take part in the new scheme, while those in Aberdeen, the Borders, Dunfermline, Dunbartonshire and Moray have also opted out.
The Dundee Bar Association voted unanimously on Friday not to take part in the new scheme.
The 450 members of the Glasgow Bar Association are due to vote on the issue next week.
Ian Moir, convener of the Law Society of Scotland's criminal legal aid committee, said falling pay rates and the incompatibility of on-call work with family life was leading to a huge drop in the numbers willing to take on legal aid work.
He said: "The new legislation introduced by the Scottish government provides a right to have a solicitor attend when a person is in police custody.
"For that right to be effective, proper funding must be in place to allow solicitors to deliver the advice."
He added: "In order to solve the impending crisis, the Scottish government will need to significantly increase the rates offered for this additional work, but also undertake to meaningfully increase rates across the board so that legal aid businesses can gear up to deliver these important rights and be sustainable."
'Reduction in crime'
The Scottish Legal Aid Board, who will manage the new scheme, said that they had contingencies should the majority of private solicitors opt out.
They said they currently had 14 solicitors offering advice over the phone to those in police custody via the solicitor contact line.
The board also have 23 lawyers working as part of the Public Defence Solicitors Office - a publicly-funded group sited in seven offices across Scotland.
A spokesman said recent talks with solicitors' groups suggested issues unrelated to fees or the specific arrangements for police station work were behind the reluctance to engage with the scheme.
He said: "Those issues are wider than police station advice and appear to stem largely from the impact on solicitors' businesses of a significant fall in income, which is itself a result of a long-term reduction in crime and an emphasis on a proportionate approach to prosecution which seeks to protect the public while minimising harm to vulnerable people."
He added: "Our normal practice over the last six years has been that, where a local duty solicitor cannot attend, we will either contact other duty solicitors or a solicitor from the Solicitor Contact Line or Public Defence Solicitors' Office will attend."
The Scottish government has established a legal aid review to consider reform of Scotland's system of legal aid, which is due to report in February.