I can vote - why can't I pull on a sparkly dress?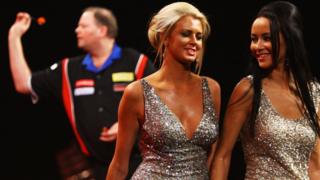 A Scottish darts walk-on girl says she has never felt objectified in her job and is calling for a reversal of the governing body's decision to ban them.
Lynsay Macdonald has been working on the Scottish darts circuit for six years.
She has told critics not to judge her because she feels it is a privilege to work beside her sporting heroes.
A Scottish promoter says he will keep using the women "until he is told it's illegal".
Lynsay MacDonald, who lives in Glasgow, started at a local darts exhibition match and now works regularly on the Scottish darts exhibition circuit.
She said she was "disappointed" when the Professional Darts Corporation (PDC) announced last week that it would stop using young women to escort darts players at tournaments.
The practice ended with the omission of the walk-on girls at the Masters tournament in Milton Keynes last weekend.
She told the BBC Scotland Kaye Adams Programme she supports the women who will now lose this part of their livelihood: "These women do this job full time - that's how they make their bread and butter.
"It's all right for people like myself who also work full time.
"For me its a huge privilege to be part of an event like this and I've never once felt objectified in any way.
"So I see where they are coming from."
Lynsay thinks there is no harm in what she does, and she does it as much for the enjoyment of the game: "Literally, all we do is escort the players to the oche, stand for a couple of minutes, smile, and then walk off.
"I see this job as a confidence boost for me, as well as getting to meet the players I enjoy watching on TV as a big fan."
She makes money, but that is not what it is all about: "Yeah, I do well from it, it is extra pocket money for me I suppose.
"But I mainly do it because I enjoy the sport and I get to meet my sporting heroes so it's more a privilege than a financial gain."
Lynsay dismissed arguments from those who support the ban, that the practice of using good-looking women to "glamorise" a male-dominated sports event is outdated and sexist.
She said: "It's been 100 years since we've been granted the right to vote so that surely means that we have the right as women to choose what we want to do in life, say what we want.
"So, if we decide we want to put a sparkly dress on and smile, surely that can be seen as a good thing for women nowadays. We should be able to do what we want."
Former Olympian Susan Egelstaff joined the argument, saying the walk-on girls are unnecessary.
She said that in 2018 people should not be celebrating girls who are there purely to be looked at.
The Commonwealth Games bronze medallist would rather see women playing sport than "decorating" it: "Thank goodness they got rid of walk-on girls," she said.
"I don't think anybody can argue that having walk-on girls that are basically told not to speak, not to do anything, just shut your mouth and look pretty, is a progressive kind of move.
"It says to young girls who are watching that the men are there to play sport and be successful and the girls are there just to look pretty and as decoration for the men and they are basically just there for men to ogle.
"The wider benefit of getting rid of walk-on girls is a bit more important than a few individuals maybe losing a bit of money."
Meanwhile, Scottish darts promoter David Hanson has revealed the walk-on girls might live on in Scotland.
He told Kaye Adams: "It was a sad day for the sport - the walk-on girls are part of darts these days.
"These girls are very professional. It's a difficult thing to do, and only a very limited number of people could do it."
He said the first televised game without them had lost its appeal: "Last week's game without them, there was something missing."
And that's why he is promising to keep up the tradition during all his live events.
He said: "These girls are looked after and do a great job.
"Until I am told it's illegal, as a promoter in Scotland, I will keep on doing it."