Mother backs campaign to cut drowning deaths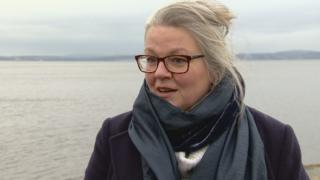 A strategy to drastically reduce the number of drowning in deaths in Scotland has been launched.
About 50 people accidentally drown in Scotland every year but Water Safety Scotland wants to reduce that figure by 50% by 2026.
The campaign is being supported by Gillian Barclay, whose son, Cameron, died at Inverkeithing Quarry in 2014.
She said she wanted to spare other families the "horrific pain of losing a loved one to drowning".
Cameron, 18, died after jumping 70ft into the water during an ice bucket challenge.
John Mckay, 18, also lost his life at the quarry in June 2015, and teacher Kelda Henderson died last year after failing to surface from a dive.
Scotland's new drowning prevention strategy aims to cut the number of accidental drownings and contribute to a reduction in water-related suicides.
Water Safety Scotland said an average of 29 people a year take their own lives in and around Scotland's waterways.
The strategy has been drawn up by experts including Ms Barclay and representatives of organisations like the RNLI, RoSPA and the Royal Life Saving Society UK (RLSS UK).
The Scottish Fire and Rescue Service, the Scottish government, NHS boards, local authorities and water leisure groups also contributed.
Among its objectives are the promotion of swimming and water safety education in nurseries and schools.
It also wants to see an improvement in the fatality incident data and intelligence across Scotland.
Ms Barclay said: "The loss of Cameron is the saddest and most difficult challenge I have ever faced.
"Cameron's sister, brother and I became involved in water safety work because we want to help reduce the number of families and friends who face the horrific pain of losing a loved one to drowning.
"There is great work going on all the time to help people enjoy Scotland's water while keeping themselves safe, and we need to keep making people aware of the risks around water.
"I'm very grateful to Water Safety Scotland for allowing me to help shape Scotland's first drowning prevention strategy from the perspective of someone who has lost a child in a drowning accident."
Michael Avril, chairman of Water Safety Scotland, told BBC Scotland: "The last thing we want to say to people is not to go near water.
"We actively want to encourage people to use water for recreational use and commercially - but we want them to use it safely, to understand what those dangers will be when they visit an area and to make sure that they keep well out of the road of them."